ECONOMY
India to Get Aid; Hong Kong Eases Nightlife Curbs: Virus Update
(Bloomberg) — Countries from the U.S. to Australia pledged help for India, with many also restricting travel from the South Asian nation as it combats the world's largest surge in Covid-19 cases.
The U.S. said it would send 60 million doses of AstraZeneca Plc's coronavirus vaccine abroad, and President Joe Biden promised his full support to Indian Prime Minister Narendra Modi. India's new infections topped 300,000 for a sixth day, while Thailand reported its highest single-day increase in Covid fatalities.
Hong Kong will allow bars and nightclubs to reopen for vaccinated people, local media Cable TV and Sing Tao reported. Vaccinated Americans may get clearance as soon as Tuesday to doff masks outdoors.
Global Tracker: Cases pass 147.8 million; deaths exceed 3.1 million
Vaccine Tracker: More than 1.04 billion doses have been given
Thailand rethinks vaccine plan as new wave hits tourism
Vaccine travel rules widen rift between China and the West
Paris offers pandemic lessons from the era of 'Les Miserables'
Wealthy Indians flee by private jet as virus infections spiral
Why impact of 'long covid' could outlast the pandemic: QuickTake
Subscribe to a daily update on the virus from Bloomberg's Prognosis team here. Click CVID on the terminal for global data on cases and deaths.
Hong Kong to Ease Nightlife Curbs (2:21 p.m. HK)
Hong Kong will ease social-distancing restrictions by allowing bars and nightclubs to open past midnight for vaccinated residents starting Thursday, local media reported, as part of efforts to encourage people to inoculate themselves against Covid-19.
Sing Tao reported that staff and customers would both need to have received a first dose of a Covid-19 vaccine as a condition for reopening, while Cable TV said staff must be vaccinated with at least one dose. Both outlets cited unnamed sources.
The new rules will allow bars and nightclubs to remain open until 2 a.m., they reported. They will still need to cap each table to two people, the outlets said.
India Cases Top 300,000 for Sixth Day (1:39 p.m. HK)
India, battling the world's fastest-growing outbreak, reported 323,144 new infections Tuesday — the sixth straight day with more than 300,000 cases. Total fatalities have crossed 197,000 while more than 145 million vaccine doses have been administered, according to data from India's health ministry.
The Asian nation, which trails only the U.S. in total tally of infections, has slowly begun getting aid from other countries, including the U.S. which decided to release its stockpile of AstraZeneca's vaccine and lift curbs on crucial raw materials. While India gears up to open its vaccination program to everyone above 18 years of age from May 1, its richer citizens are fleeing on private jets, paying millions of rupees to fly to destinations in Europe, the Middle East and the Indian Ocean.
Australia Bans Flights From India (1:27 p.m. HK)
Australia is banning all flights from pandemic-ravished India until at least May 15 as the South Asian nation battles what Prime Minister Scott Morrison described as a "terrible crisis."
Australia's system of mainly quarantining returned residents from overseas in inner-city hotels has been responsible for leaks into the community that's triggered snap lockdowns in Brisbane and Perth in the past month.
Malaysia said earlier it will halt entry of Indian nationals and passengers as well as implement strict controls for ships from the South Asian country docking at the nation's ports.
India Variant Becoming More Prevalent (1:18 p.m. HK)
Genomic sequences of coronaviruses shared on the GISAID database show the
B.1.617-type variant is becoming more prevalent in India, where it was first
detected. The variant was present in 38% of the SARS-CoV-2 genomes collected in India in March, up from 25% in February, and was in 10 genomes in April, GISAID said in an email Tuesday. The variant contains a number of mutations associated with reinfection and reduced vaccine efficacy that have been found in other worrisome strains.
Thailand Fatalities Rise by Daily Record (12:57 p.m. HK)
Thailand reported the highest single-day increase in Covid-19 fatalities with 15 deaths, taking the total to 163. Bangkok remains the epicenter as Thailand continues to battle its worst-ever outbreak, which has so far infected 30,824 people since the start of April.
Thailand's ban on foreign arrivals from India will take effect from May, according to Taweesilp Visanuyothin, spokesman for the Center for Covid-19 Situation Administration.
"It is a sensitive matter as we have great relations with India, especially for tourism," Taweesilp said.
Vaccine Troubles to Set Africa Back (11 a.m. HK)
A slow rollout of Covid-19 vaccines and a lack of funding to bridge the gap between poor and rich countries could set Africa back two to five years, according to the head of the United Nations Economic Commission for Africa.
"The fact that Africa isn't going to get vaccinated as fast is going to clearly slow growth," Vera Songwe, the executive secretary of the UNECA, said Monday in an interview. A lack of access to vaccines that will keep barriers to travel and business in place will also slow trade and hamper investments that could set back economic growth and prevent the creation of 26 million jobs, she said.
Philippines Breaches 1 Million Cases (10:45 a.m. HK)
The Philippines' Covid-19 case count breached 1 million on Monday, fueled by a surge since mid-March which health authorities attributed to a possible spread of new virus variants, economic reopening, and lower compliance to mask-wearing and distancing orders.
Almost 9,000 new infections were reported on Monday, down from a record of more than 15,000 earlier this month, after the capital and nearby areas were placed on lockdown in late March. Occupancy of ICU beds in hospitals in the capital has also fallen to 71% from over 80% in the past weeks. The government is set to announce on Wednesday if it will keep or ease movement restrictions.
Vietnam Reports Case Tied to India (9:17 a.m. HK)
A hotel worker in Vietnam's northern province of Yen Bai tested positive for Covid-19 after contact with 11 quarantined visitors from India, the provincial department of health said in a website statement.
The worker was the first reported domestic virus case since March 25 as the government warned of possible new outbreaks tied to visitors from abroad.
Suga Orders Tokyo Vaccination Site (8:55 a.m. HK)
Japanese Prime Minister Yoshihide Suga has ordered the Defense Ministry and Self Defense Forces to help set up a large-scale vaccination site in Tokyo by May 24 to help expedite an inoculation effort in the area. The center will run for about three months, the ministry said.
U.S. Discusses Vaccines With Pfizer, Astra (8:45 a.m. HK)
U.S. trade chief Katherine Tai met with key officials at Pfizer and AstraZeneca about raising production of Covid-19 vaccines and a proposed waiver of intellectual-property protections.
India and South Africa have proposed that the WTO waive broad sections of its intellectual-property rules and to try to forge an agreement on how patents developed in the race against Covid-19 should be recognized.
The pharmaceutical companies say they are working to expand global capacity already, and argue that the fastest way for the U.S. to help developing countries is by giving them the stockpile of vaccines it already has. The U.S. announced Monday it would share its entire AstraZeneca supply with other countries and readied an aid package for India.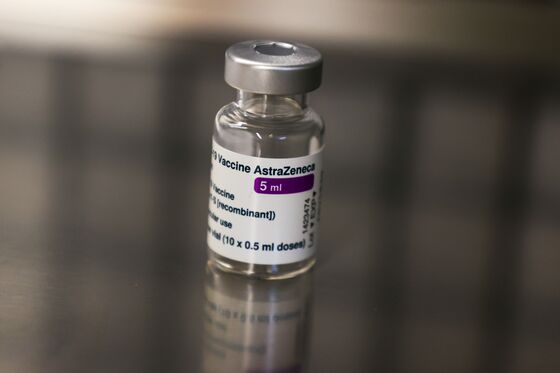 Oil Rebound Clouded on Virus Surge (7:01 a.m. HK)
OPEC and its allies projected a strong recovery in global oil demand this year, but the outlook was clouded by a raging virus outbreak in India just days before the group's next meeting.
A committee of technical experts from the group forecast that world oil consumption will rebound by 6 million barrels a day this year, according to delegates who attended the panel on Monday. Most of the fuel inventory glut accumulated during the pandemic will have dissipated by the end of this quarter, they estimated.
Gilead Boosting Remdesivir Supply for India (6:41 a.m. HK)
Gilead Sciences Inc. pledged to donate at least 450,000 vials of Remdesivir to the government of India and said it will provide the active pharmaceutical ingredient in the medicine to help scale up production in the country in response to the rapid increase of cases.
The company is also providing its voluntary licensing partners with technical assistance and supporting the addition of new local manufacturing facilities, Gilead said in a statement.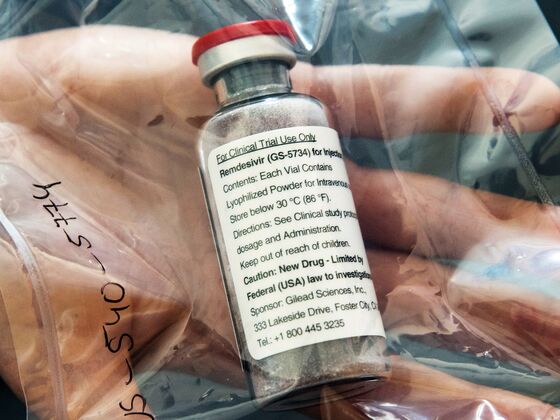 Remdesivir is approved in India for restricted emergency use for the treatment of suspected or laboratory confirmed Covid-19 in adults and children hospitalized with severe disease.
U.S. May Ease Outdoor Mask Mandate: CNN (4:42 p.m. NY)
Vaccinated Americans may get clearance to shed masks outdoors in one of the most significant changes to virus guidelines since the U.S. first told people to don the face coverings to curb the spread of Covid-19.
President Joe Biden is expected to announce as early as Tuesday that the U.S. Centers for Disease Control and Prevention will issue the new guidance, according to a CNN report citing unidentified sources.
With the U.S. averaging 2.74 million vaccine doses daily — with a total of 231 million given out overall — some public health experts have called for less strict guidelines as warmer weather arrives.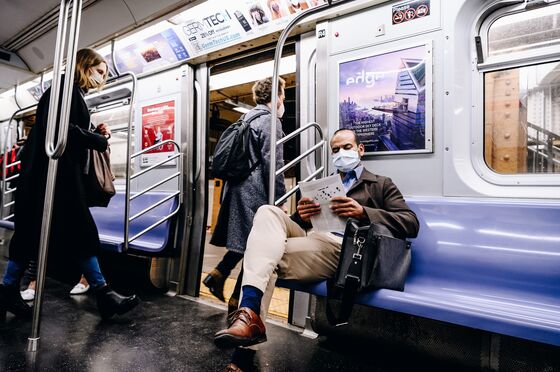 Fauci Sees Turning Point in Few Weeks: CNBC (3:09 p.m. NY)
Anthony Fauci, President Joe Biden's chief medical adviser, said Americans should begin to see a turning point in the pandemic "within a few weeks," CNBC reported. If the U.S. continues its vaccination pace, "literally within a few weeks, we're going to start to see a turning around of the dynamics," Fauci said Monday during a virtual event hosted by the Harvard T.H. Chan School of Public Health.
N.J. to Allow Larger Crowds (1:35 p.m. NY)
New Jersey starting on May 10 will relax some gathering restrictions, allowing bigger crowds to attend high school proms and graduation ceremonies, Governor Phil Murphy said on Monday.
In all, 2.8 million people have been fully vaccinated against Covid-19, he said at a Trenton news conference. That's 60% of the 4.7 million adults whom the state wants fully protected by June 30.
Turkey Imposes 3-Week Lockdown (1 p.m. NY)
President Recep Tayyip Erdogan imposed an almost 3-week lockdown starting Thursday. All students will enroll in remote schooling during the lockdown period, which runs until May 17, Erdogan said in a press conference following Monday's cabinet meeting in Ankara.
The daily number of cases should be lowered to below 5,000 so that Turkey can reopen economy along with the rest of Europe, Erdogan said. On Sunday, Turkey reported 38,553 new cases of Covid-19 and 347 deaths, bringing the death toll from the pandemic to 38,358.
Cuomo Raises Stadium Capacity (11:50 a.m. NY)
With infections falling to the lowest level since November, New York Governor Andrew Cuomo said he is increasing allowable capacity to 33% from 20% at outdoor stadiums, to 50% from 25% at casinos, to 50% from 33% at gyms outside New York City, and to 75% from 50% at office buildings.
Cuomo spoke at a press conference at the state fairgrounds in Syracuse, where he announced that the fair, one of the biggest in the U.S., will resume this summer after last year's cancellation. The fair begins on Aug. 20, and runs for 18 days.
Macron Hints at Reopening Plans (8:09 a.m. NY)
France's Emmanuel Macron gave some hints about how the country will start to reopen some businesses from mid-May.
During a school visit Monday, just as pupils were going back to class after an extended vacation to tackle the virus, Macron said restaurants would reopen gradually between May and the end of June. He added that the timeline will be based on local virus circulations, potentially diverging from one region to another. Cultural venues would start to reopen from mid-May, with limited occupancy rates, and the current 7 p.m.-6 a.m. curfew might be pushed back, he told pupils.
Most Related Links :
usnewsmail Governmental News Finance News