ECONOMY
Singapore Approves Pfizer for Teens; India Deaths: Virus Update
(Bloomberg) — The pandemic is wiping out "entire families" in villages in India, where more people are saying the scale of the crisis is much bigger than official numbers reveal. The number of deaths in the country reached a record on Tuesday, though the daily infection count fell.
Britain will approve Johnson & Johnson's one-dose vaccine "very imminently," according to the U.K. drugs regulator. Singapore will lengthen the time between vaccination doses to stretch out supply and will authorize the Pfizer Inc. shot for children as young as 12.
U.S. President Joe Biden plans to send an additional 20 million doses abroad by the end of June as supply starts to outstrip demand. Sanofi and GlaxoSmithKline Plc reported positive results from a mid-stage study, offering optimism their delayed vaccine could be cleared by year-end.
Subscribe to a daily update on the virus from Bloomberg's Prognosis team here. Click CVID on the terminal for global data on cases and deaths.
Turkey Fails to Persuade Russia to Start Flights (8:53 a.m. NY)
Turkish officials failed to persuade Russia to lift a ban on flights between the two countries at the end of May, a setback for a tourist sector attempting to recover from a year of pandemic restrictions as new cases fall.
Moscow is now expected to allow tourists to travel to Turkey, a popular destination for Russians, from mid-June at the earliest, according to a senior Turkish official with direct knowledge of the matter.
No 'Conclusive' Reason to Delay U.K. Easing (7:39 a.m. NY)
U.K. ministers are "looking very carefully" at the data on the coronavirus variant that originated in India, Prime Minister Boris Johnson said on Tuesday in a pooled television interview.
"At the moment we see nothing conclusive to say that we have to deviate from the roadmap" for unlocking the economy, Johnson said.
Zambia Has First Case of India Variant (7:36 a.m. NY)
Zambia recorded its first case of the variant B.1.617.1 first found in India, in a 42-year-old man who traveled from India to Zambia, Ministry of Health Permanent Secretary Kennedy Malama said on state-owned ZNBC TV.
Mixing Doses Is Safe, Effective: Spanish Study (7.20 a.m. NY)
Combining doses of vaccines from AstraZeneca Plc and Pfizer-BioNTech is safe and gives people high levels of immunity, according to a study by Spain's Instituto de Salud Carlos III. The research institution conducted one of the first studies into the combined use of shots that includes clinical trials.
The study administered 441 people younger than 60 years old a first dose of AstraZeneca and a second of Pfizer-BioNTech. Results show an increase in antibodies after the second dose and mild secondary effects that didn't require hospitalization.
The research was prompted by the appearance of blood clots in some people who had received the AstraZeneca vaccine. These isolated cases, some of which were fatal, prompted some European countries including Spain to halt vaccination of AstraZeneca to young people.
Singapore to Lengthen Dose Gap (6:07 a.m. NY)
Singapore will lengthen the time between vaccination doses to six to eight weeks, in an effort to stretch out limited supply that could see its entire adult population receive a first shot by the end of August.
The revised strategy comes amid a new wave of infections that has forced the city-state to return to lockdown-like conditions and caused the cancellation of high-profile initiatives like the World Economic Forum and an air travel bubble with Hong Kong.
The government will also authorize the vaccine from Pfizer Inc. and BioNTech SE for children as young as 12.
J&J Vaccine Approval in U.K. Is 'Imminent' (5:51 p.m. HK)
The U.K. will approve Johnson & Johnson's Covid-19 vaccine "very imminently," according to the country's drugs regulator, giving Britain its first one-dose vaccine against the pandemic.
Philippines Cuts GDP Growth Forecast (5:28 p.m. HK)
The Philippine government cut its economic forecast for this year and next as it struggles with a surge in coronavirus cases that threatens its recovery. Gross domestic product is now projected to grow 6% to 7% this year, down from a previous estimate of 6.5% to 7.5%, according to the Development Budget Coordination Committee.
Separately, the Philippines ordered 40 million vaccine doses from Pfizer in the Southeast Asian nation's biggest supply agreement. While the country expects more than 200 million vaccine doses to arrive this year, recruiting as many as 50,000 health workers to administer shots in key cities poses a challenge, Carlito Galvez, who leads the Philippines' vaccine program, said in a briefing.
Malaysia Lets States Procure Vaccines (5:07 p.m. HK)
Malaysia is allowing states to procure their own supply of vaccines, according to Science, Technology and Innovation Minister Khairy Jamaluddin.
Vietnam Tells Foxconn, Luxshare Plants to Shut (3:10 p.m. HK)
Vietnam instructed Foxconn Technology Group and Luxshare Precision Industry Co. to shut their factories amid a virus surge in the northern region, said Le Anh Duong, chairman of the People's Committee of Bac Giang Province.
"They are implementing our request to temporarily close down entire factories and we will send health officials in to help them reorganize to be able to quickly resume operations and restrain the virus's spread at the same time," he said by phone.
Strong Data From Glaxo, Medicago Trial (3 p.m. HK)
GlaxoSmithKline Plc and Medicago Inc. said their Covid-19 vaccine candidate spurred protective antibody levels 10 times higher than in patients who have recovered from the disease. The vaccine generated similar immune responses in all age groups with no serious safety events in the mid-stage trial, Medicago said.
U.K. Rushes to Vaccinate as Variant Spreads (3 p.m. HK)
The U.K. is battling to contain a highly contagious variant first discovered in India so it can follow through with plans to fully reopen on June 21.
The Indian variant represents a far more rapid rate of transmission than others, including B.1.351, first detected in South Africa. That's according to the latest data from Public Health England, which showed the strain had more than doubled in a week.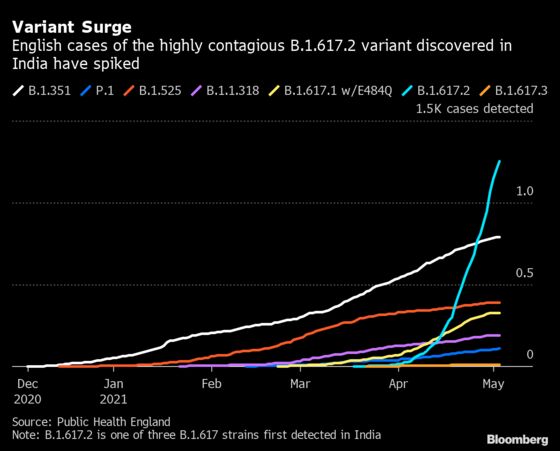 Thailand Considers Reducing Prison Population (2:53 p.m. HK)
Thailand, facing its worst outbreak since the start of the pandemic, is considering cutting its prison population by as much as 16% to counter the rapid spread of infections among inmates and workers in overcrowded facilities.
More than 10,000 new cases have been reported in about a dozen densely packed Thai prisons. These latest clusters have pushed the country's daily case count to record highs twice in the past week.
At about 311,000 inmates, Thai prisons are running 5% above official capacity. More than 80% of those incarcerated face charges for narcotics violations. The Justice Ministry is looking at a special early-release program for about 50,000 inmates.
Hanmi Will Produce Experimental Vaccine (2:26 p.m. HK)
Hanmi Pharm to produce Genexine's experimental Covid-19 vaccine GX-19N from its plant in Pyeongtaek, South Korea, according to regulatory filing. The companies aim to obtain emergency use approval in South Korea and Indonesia.
Shares of both Hanmi and Genexine rose Tuesday.
Denmark Plans Reopening Procedures (2:13 p.m. HK)
Denmark's lawmakers agreed on the next stage of reopenings as the pandemic remains under control in the Nordic country. All indoor sport activities will be permitted from next week as will all the school activities that hadn't yet opened already. The government also said it expects to end its recommendation that people work from home by August, when it also will drop face masks requirements.
Australia's Labor Market Recovery Continues (1:58 p.m. HK)
Jobs lost from the end of Australia's wage subsidy are being absorbed by the labor market, Secretary to the Treasury Steven Kennedy said, adding the nation had the fiscal space to respond to another crisis if needed.
When the JobKeeper program concluded March 28, over 1 million Australians were still receiving the subsidy, Kennedy said in a post-budget speech in Sydney Tuesday. Estimates indicate that in the two weeks to April 11, between 16,000 and 40,000 former recipients lost their jobs; meantime the number of ex-JobKeeper workers going to welfare benefits "has not increased substantially," he said.
Unemployment is currently 5.6%, down almost 2 percentage points from its pandemic peak in July. Treasury forecasts it to drop to 4.75% by June 2023.
India Reports Record Number of Deaths (12:40 p.m. HK)
India reported a record 4,329 deaths Tuesday even as official data show the daily count of new infections is dipping. However, the country's overall test positivity rate is about 20%, far higher than the less-than-5% the World Health Organization considers as an indicator that the spread is under control.
The scale of the crisis may be much bigger than official numbers reveal, with entire families sickening and dying in Indian villages where healthcare is absent and cases can go uncounted.
Indonesia Begins Privately Run Vaccinations (11:29 a.m. HK)
Indonesia has kicked off its privately run vaccination campaign, with companies including Unilever Plc inoculating local employees to help Southeast Asia's biggest economy reach herd immunity sooner and revive growth.
Around 320 workers at a Unilever Indonesia's plant outside of Jakarta received their first shot of the vaccine made by China's Sinopharm Group Co., Ira Noviarti, CEO of the local unit, said in a briefing. An estimated 10 million workers will receive their shots this way, with more than 22,000 companies registered for the program, according to Rosan Roeslani, chairman of the Indonesian Chamber of Commerce and Industry, who heads the private campaign.
"With this program, we can achieve herd immunity faster and soon we can eliminate this Covid pandemic," said President Joko Widodo, who witnessed the event in Bekasi, which is about an hour's drive from the capital.
Read more: Indonesian Stocks Set for Technical Correction on Virus Fear
India
Reportedly

Adding 17 Sequencing Labs (11:18 a.m. HK)
India will add 17 laboratories to the Indian Sars Cov-2 Genomics Consortium, or Insacog, to help understand the spread of variants, the Economic Times reports citing Health Minister Harsh Vardhan. The minister announced the additions to the existing 10 labs, which were supposed to test 5% of positive samples from states and all positive international travelers, but are actually testing far fewer samples, according to the report.
Hong Kong to Offer Jabs at Some Corporations (10:26 a.m. HK)
Hong Kong will start offering on-site Covid-19 vaccinations at major corporations from Tuesday, Chief Executive Carrie Lam said at a briefing. The city has administered about two million doses so far and has another two million in storage.
Most Related Links :
usnewsmail Governmental News Finance News