News
7 Best Wood Planers for Woodworkers and DIYers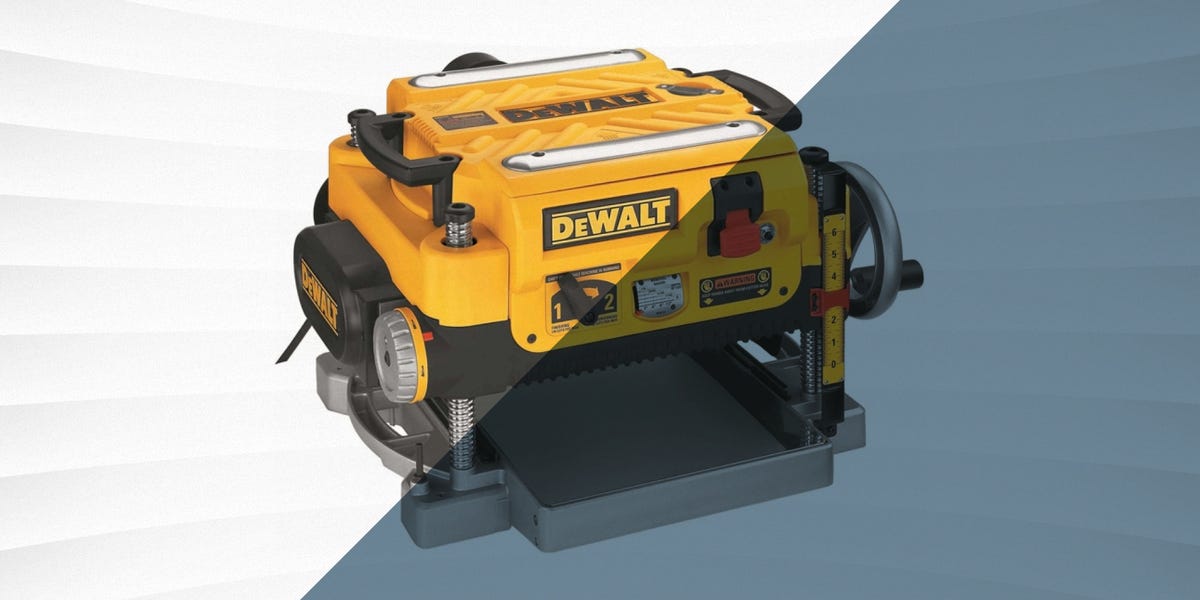 Staff, Courtesy of DeWalt
When working with wood materials, it's usually important for both functionality and cosmetic appeal to create the smoothest surface you possibly can. Wood planers—sometimes also called thickness planers—help by eliminating rough spots, inconsistencies, and uneven surfaces.
As both the former owners of a construction business and the current owners of a fixer-upper home built in the 1800s, my husband and I have used wood materials for a virtually endless array of jobs, including framing and DIY woodworking projects like refurbishing kitchen cabinet doors. We know firsthand that planers are a valuable tool in preparing wood in optimum condition.
How We Evaluated
In assessing a wide range of wood planers, we specifically focused on four criteria: model type, motor, cutterhead, and board width.
Wood planers are divided into three main body-type categories: handheld, benchtop, and stationary.
Handheld models can mean manual operation, but there are numerous electric handhelds. Because of its compact size, this style is a great choice for smaller or more intricate jobs. Some handheld models are available in cordless varieties, which can come in handy if you are working on remote job sites where electrical access is limited.
Benchtop models are less expensive and more convenient than larger stationary varieties. They are more portable, making them a popular option for professionals who often need to conduct work onsite at different locations.
Stationary models require a lot more space and involve more maintenance but can handle bigger projects.
We obtained motor-related specifications from manufacturer materials. If you want a machine that can keep up with strenuous use and demanding projects, choose the most powerful motor you can. But if you primarily work with softer woods that won't put much strain on the planer, a lower-powered motor should be fine.
We also took into consideration input from Amazon user reviews, especially when comparing similar models at equivalent price points.
Get Ready to Carve: 10 Woodworking Projects for Every Skill Level | 18 Essential Tools for Your First Woodshop
What to Consider
Planers offer two types of cutterheads: the traditional straight knife and helical, or spiral, configuration. A straight knife cutterhead contains several blades (2-4 is typical), which are often referred to as "knives." Helical models, on the other hand, use rows of small square-shaped cutters that are affixed via inserts, making them easy to replace when needed. Helical cutterheads will add to the cost but maintain sharp cutting ability for a longer time and also make the job significantly quieter.
Speaking of noise, electric wood planers tend to be loud and are often cited as one of the loudest tools in any shop or DIYer's garage. We strongly recommend ear plugs or other hearing protection gear. Keeping the blades sharp can help; the noise tends to increase as blades dull, but you (and the neighbors) will still have to tolerate some noise. Shallow cuts can keep things a bit quieter (and also tend to lengthen the lifespan of your blades).
---
Advertisement – Continue Reading Below
Best Stationary
DeWalt DW735X Two-Speed Thickness Planer
DeWalt
amazon.com
$599.00
• Type: Stationary 
• Motor: 15 amps
• Cutterhead: Three straight
• Maximum board width: 13 in.  
This DeWalt planer is a powerful, solid workhorse that boasts 10,000 rpm speeds to power cuts up to ⅛-inch in depth. The three-knife cutterhead design means your blades will last longer and replacing them will be an easier process. Choose the speed that will work best for your purposes (96 cuts-per-inch would be a good choice for dimensioning and 179 cuts-per-inch for finishing). It boasts a sturdy 19¾-inch cast aluminum base that provides a solid, rigid foundation. The automatic carriage lock is a big help in snipe reduction. The fan-assisted chip ejection keeps chips out of the way and away from the cutterhead. (This 735X model is identical to the 735 but includes feed tables and extra blades.) 
Three knives extend blade lifetime
Powerful
Budget-Friendly Benchtop
Craftsman CMEW320
Craftsman
amazon.com
$349.00
• Type: Benchtop 
• Motor: 15 amps
• Cutterhead: Two straight
• Board width: 12½ in. 
This Craftsman planer is a reliable yet surprisingly budget-friendly choice in the benchtop category. The 15-amp motor can power the double-edged reversible blades at speeds of 8,000 rpm. The Poly-V cutterhead drive and double-edged high carbon steel knives enable a high degree of versatility, meaning it will easily handle any type of wood and has no trouble with glued materials. It can accommodate board widths of 12½ inches and allows cuts of up to ⅛-inch deep. Users rave about its smooth operation and easy setup. Add a dust-collection system to the built-in dust chute to minimize mess.  
Can handle many types of wood and glued materials
No dust-collection system
Portable and Powerful
Grizzly Industrial G0505
Grizzly
amazon.com
$485.00
• Type: Benchtop 
• Motor: 2 hp
• Cutterhead: Two reversible straight
• Board width: 12½ in. 
Grizzly planers have a reputation for being tough, sturdy machines that provide reliable performance. The company says it introduced this model as a more portable option that still delivers all of the muscle of its heavier machines that require more space. The 2-hp motor powers 10,000 rpm and can produce cuts of up to 3⁄32 inches deep. Lifting handles make this easy to pick up and move around, and the extra-large table extensions give you more space on which to work. At ⅛-inch thick, the HSS blades are sturdier than the thinner blades that you typically see in portable models; users report these two blades can go right through even hard woods with no issues. 
Handles for easy lifting
Thicker blades are very sturdy
Best Handheld
Makita KP0800K
Makita
amazon.com
$159.00
• Type: Handheld 
• Motor: 6.5 amps 
• Cutterhead: Two straight
• Cutting width: 3¼ in.  
This handheld planer delivers the dependable quality you would expect from the Makita name. It can plane up to 3¼ inches wide and 3⁄32 inches deep in a single pass. It's ideal for fine woodworking and detailed, intricate tasks but can also be used for general carpentry and common DIY jobs. Weighing less than six pounds, it's about as portable as a wood planer can get, but the 6.5-amp motor packs a lot of power into its compact size, delivering 17,000 rpm. One thing to note: A dust bag and dust-extracting nozzle must be purchased separately. 
Lightweight
Powerful motor delivers up to 17,000 rpm
Dust bag and nozzle not included
• Type: Handheld 
• Motor: 6 amps 
• Cutterhead: Two reversible straight
• Cutting width: 3¼ in.  
This affordable tool from Wen is among the most budget-friendly planers you can find. And when you consider it comes packed with little extras such as a dust bag and a parallel fence bracket, it seems like a really smart buy for bargain hunters. The 6-amp motor provides plenty of power, propelling the double-sided HSS blades up to 17,000 rpm. It can plane up to 3¼ inches wide, and the 16 positive steps help you execute precise cuts of up to a ⅛-inch deep. The included rabbeting guide lets you easily make rabbets up to 7⁄10 inches. 
Very affordable
Includes dust bag and parallel fence braket
Limited cutting width due to handheld design
Helical Cutterhead
Wen PL1326
• Type: Benchtop 
• Motor: 15 amps 
• Cutterhead: Helical 
• Board width: 13 in. 
This Wen planer offers wide-ranging versatility by accommodating boards up to 13 inches wide and 6 inches thick. With 26 staggered HSS blades, this planer can easily create a smooth finish on any type of wood. As is typical with helical models, this type of cutterhead commands a higher price. This model has a price tag roughly $140 higher than the comparable Wen model with a straight-blade cutterhead. Many users seem to feel it is worth the investment, though, with online reviewers raving about its accuracy and easy operation. The solid, cast-iron base ensures optimal stability. 
More expensive than straight-knife planers
Best Benchtop
Jet JWP-13BT
• Type: Benchtop 
• Motor: 2 hp
• Cutterhead: Helical 
• Board width: 13 in. 
With 26 two-edged blades, this JET planer consistently delivers accurate, smooth cuts of up to ⅛-inch deep. Blade inserts can be replaced quickly and easily, which helps minimize downtime and keep your projects running on time. Thanks to the powerful 2-hp motor, the blades can spin at speeds of 10,000 rpm. The cast-iron bed and stability-enhancing design keeps operation secure and wobble-free to reduce snipe. It also has a 4-inch dust-collection port. Amazon reviewers cite its space-saving footprint and relatively low noise level as favorite features.  
Compact yet powerful
Less noisy than some models
This content is created and maintained by a third party, and imported onto this page to help users provide their email addresses. You may be able to find more information about this and similar content at piano.io
Advertisement – Continue Reading Below
Most Related Links :
usnewsmail Governmental News Finance News