Automobile
Auto Insurance in Evansville Indiana: Everything You Need to Know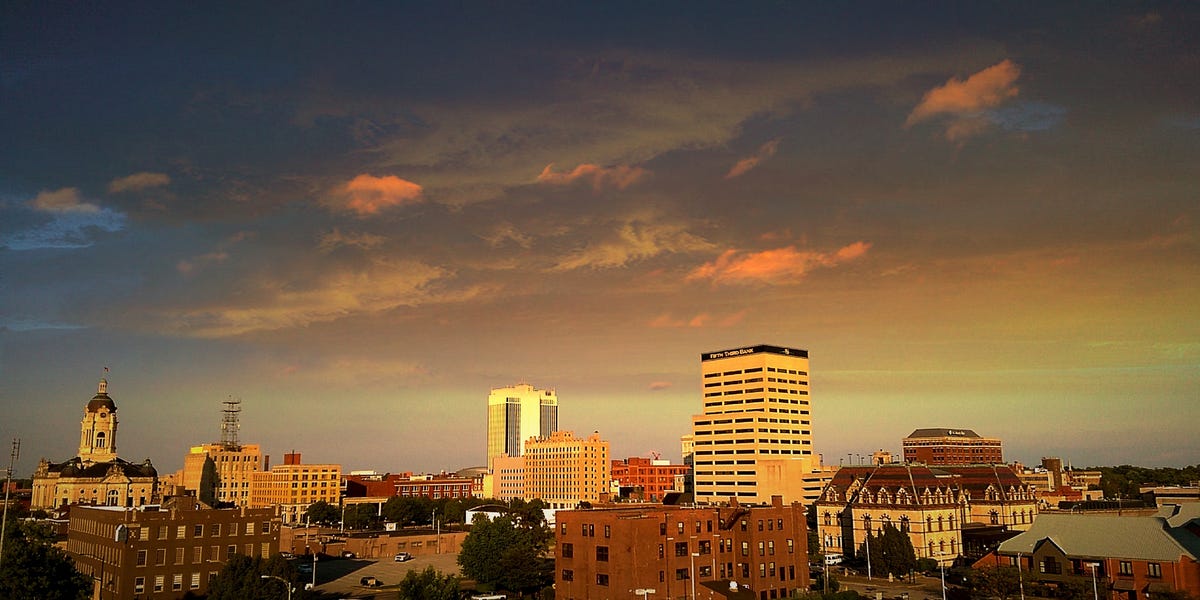 Motorists must purchase auto insurance in Evansville, Indiana, and carry proof of insurance within their vehicles at all times. Indiana is a unique case because it requires drivers to have uninsured motorist coverage, bodily injury liability, and property damage liability insurance.
The Indiana state minimum auto insurance requirements are:
Bodily injury liability: $25,000 per person and $50,000 per accident
Property damage liability: $25,000 per person
Uninsured motorist: $50,000
Though policies with only the state minimum requirements are typically the cheapest available, their lack of coverage may cost you more if you need to file an insurance claim. If you cause severe damage or injury in a traffic accident, the minimum coverage probably won't cover all the medical expenses and property damage, so you may end up paying significant portions out of pocket.
Car Insurance: Evansville Rates vs. State and National Averages
TheZebra found the average cost of auto insurance in Evansville, Indiana is $1212 per year. That's $47 more than the Indiana average of $1165 and $336 less expensive than the national average of $1548.
Evansville Auto Insurance Costs by Insurer
Car insurance rates change drastically from company to company. It's recommended that you compare quotes from as many insurance providers as you can to get the best rates. Erie has the most affordable auto insurance for a state minimum policy per ValuePenguin.
Take a look at the best insurance companies and their annual rates in Evansville, Indiana:
Indiana Farm Bureau: $1232
Erie: $814
State Farm: $1021
Progressive: $1208
AAA: $1068
Evansville Auto Insurance Premiums by Driver Age
Younger folks tend to pay more for the same auto insurance policy. SmartFinancial recommends young drivers apply for discounts that they could qualify for. Discounts for young people include safe driver discounts, mature driver discounts, away-at-school discounts, good student discounts, and multi-policy discounts.
These are the average annual premiums for drivers by age in Evansville:
Teens: $4252
20s: $1697
30s: $1183
40s: $1113
50s: $1044
60s: $1086
70s: $1346
Evansville Car Insurance Premiums by Gender and Marital Status
Marital status can often be a major factor in determining your car insurance premiums. Married drivers usually pay less than singles. Married couples pay an average of $59 less than their non-married counterparts. Widows also have cheaper monthly premiums than single people.
Gender is also a contributing factor to insurance rates in most cities. Evansville has a car insurance pay gap of $28 per year between genders.
Check out the average yearly car insurance rates by gender and marital status:
Female: $1184
Male: $1212
Single: $1153
Married: $1153
Divorced: $1212
Widowed: $1210
Average Evansville Insurance Rates After a Violation or Accident
Reckless driving tickets raise your insurance rates more than any other violation. Reckless drivers in Evansville see their auto insurance rates increase by $577 annually. A DUI could result in a $513 rate hike compared to a speeding ticket, increasing rates by $338.
Here are the average annual rates for drivers after a common violation:
At-fault Accident: $1736
Speeding Ticket: $1550
Reckless Driving: $1789
DUI: $1725
Evansville Auto Insurance Premiums by Credit Tier
According to Insurify, your credit score has a large impact on your auto insurance rates. Motorists with poor credit scores often face higher monthly premiums than those with excellent credit. Drivers in Evansville who improve their credit rating from 300-579 to 800-850 save up to 60 percent on their auto insurance policies. Moving from the lowest credit tier to the "Fair" credit tier can save you over $1000 a year.
Here are the average annual rates by credit tier:
Very Poor: $2488
Fair: $1483
Good: $1212
Very Good: $1101
Exceptional: $1000
Cheaper Indiana Cities
Where you drive, work, and park your car at night has a significant impact on your auto insurance rates. Car insurance is usually cheaper in rural areas because the roads see less traffic. This means you'll be less likely to get into an accident. Areas with lower crime rates will typically have better insurance rates as your vehicle is less likely to be stolen or vandalized.
These are some of the cheapest cities to insure a vehicle in Indiana:
Carmel: $99
Fort Wayne: $109
Evansville: $109
Indianapolis: $120
South Bend: $108
List of Insurance Companies in Evansville
Many insurance companies offer policies in Evansville, Indiana, such as Erie, State Farm, American Family, Progressive, GEICO, Auto-Owners, Allstate, and USAA. Cheap premiums won't necessarily result in amazing customer service and easy-to-navigate claims. It's important to compare prices from at least three different companies, read their reviews, and find each insurer's customer service rating.
Driving in Evansville
According to AutoInsurance.org, Indiana has 14 routes covering over 1300 miles. Indiana has one toll road, known as "East-West," located on I-90 and I-80. The maximum charge for using the toll road is $10, and the minimum charge is $4.65.
The worst part of driving is hitting potholes or driving on poorly maintained roads. Evansville drivers see poor roads more often than not, with less than half their roads being in favorable condition. More than 60 percent of roads in Evansville are either poor or mediocre condition.
The average worker in Evansville commutes in less time than the national average. Commuters in Evansville get to work in about 18.4 minutes. Most commuters in Evansville don't carpool and prefer to drive to work alone.
When looking for a new car insurance policy, remember each insurance provider is different. Though they may seem similar, their internal workings are unique. Most people only consider a policy's monthly premiums, but the cost won't tell you everything you need to know. Quotes are free and instant online so head to your favorite insurer's website to get yours today!
Check this out if you need additional information, resources, or guidance on car insurance.
Sources:
Car and Driver Car Insurance Hub | caranddriver.com
Evansville, IN Car Insurance | thezebra.com
Who Has the Cheapest Car Insurance Quotes in Indiana? (2021) | valuepenguin.com
Evansville Car Insurance | smartfinancial.com
Cheap Auto Insurance Quotes in Evansville, IN (2021) |insurify.com
Auto Insurance in Evansville, IN (The Complete Guide) | autoInsurance.org
What Are the Different Types of Car Insurance? | caranddriver.com
This content is created and maintained by a third party, and imported onto this page to help users provide their email addresses. You may be able to find more information about this and similar content at piano.io
Most Related Links :
usnewsmail Governmental News Finance News