Automobile
Everything You Need to Know About Car Insurance Augusta, Georgia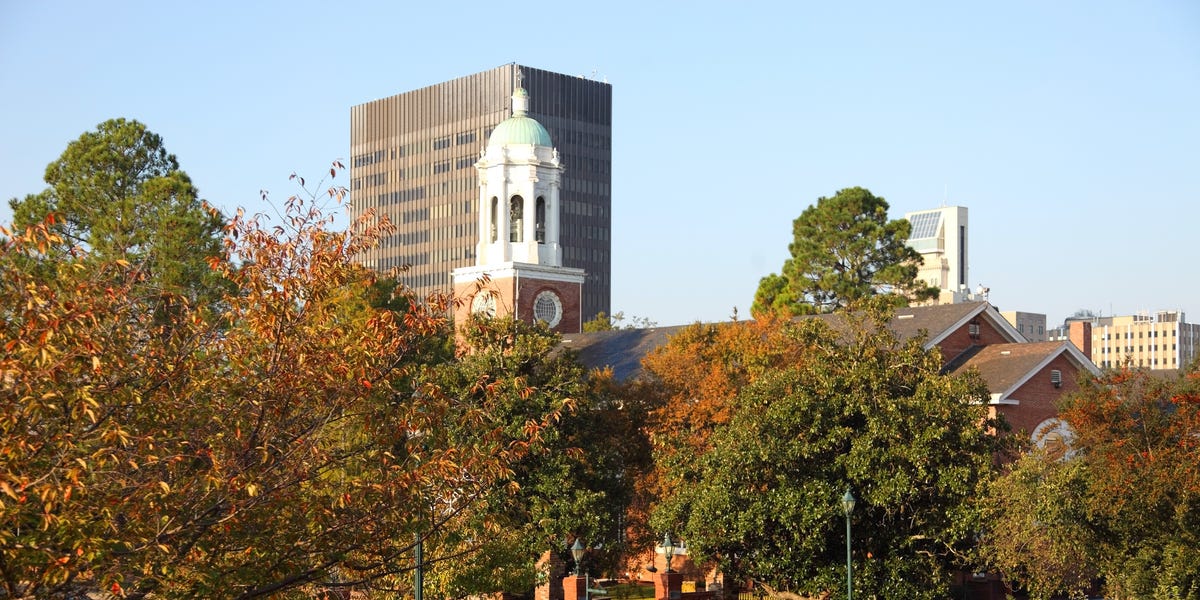 DenisTangneyJrGetty Images
To operate a vehicle in the city of Augusta, drivers are required to carry the minimum liability coverage laid out by the state of Georgia. Minimum coverage limits include:
$25,000 bodily injury liability per person
$50,000 bodily injury liability per accident
$25,000 property damage liability per accident
Car Insurance: Augusta Rates vs. State + National Averages
Car insurance rates in Augusta are not too high when compared with state and national averages. The city's annual premium average is around $1517 per year, which is slightly less than the state average. The city average is also about $25 per year less than the national average.
Augusta Auto Insurance Costs by Insurer
Several auto insurance carriers provide car insurance in the city, with annual rates ranging below the average to around $200 higher. Some of the most popular insurance carriers in Augusta include:
Georgia Farm Bureau: $1113
USAA: $1239
State Farm: $1432
GEICO: $1490
Progressive: $1753
Augusta Auto Insurance Premiums by Driver Age
Age is one of the most significant factors that go into determining car insurance rates in Augusta. The age group that will enjoy the best rates includes those in their 50s, though once you hit 60, your rates will only increase by about $40.
As mentioned by Insurify, the age group that will see the most significant annual premiums are teenagers and those in their younger 20s. Those under 20 can pay up to five times more than the city average, with average annual premiums of $6136.
Once drivers reach their 20s, the rate will drop to an average of $2105 and then another $500 by age 30.
Augusta Car Insurance Premiums by Gender and Marital Status
As with most areas in the U.S., drivers in Augusta may pay more for their insurance premiums based on their gender and marital status, depending on the insurance carriers' policies. Female drivers will pay about $4 more per year on average with most carriers, though some will make no distinction between genders.
According to The Zebra, the biggest savings are for those who are married versus those who are single. Single drivers in Augusta will pay almost $175 more per year on premiums, while widowed drivers will pay rates in between the two.
Average Augusta annual rates based on gender and marital status include:
Female: $1521
Male: $1517
Single: $1343
Married: $1343
Divorced: $1517
Widowed: $1422
Average Augusta Insurance Rates after a Violation or Accident
A major contributing factor to premium rates in Augusta is your driving history. This means the easiest way to keep your car insurance rates low is keeping a clean driving record. Any type of citation, at-fault accident, or major moving offense can trigger an increase in your insurance rates once reported to the DMV.
Reckless driving and DUI will bring about the highest increase in premiums, with DUIs increasing rates by over $1000 on average and reckless driving increasing rates up to $800 per year.
Speeding tickets will also cause your rates to increase as well, though not as much, with a rate hike of $400 per year for tickets between 10 and 20 miles over the limit.
At-fault accidents can also affect your annual premiums, depending on the amount of damage the accident results in.
At-fault accident with less than $1,000 in damages: $2112
At-fault accident with more than $2,000 in damages: $2352
Augusta Auto Insurance Premiums by Credit Tier
Your credit score is also an important factor when an insurance carrier determines your premium rates. The reason behind this is that statistics show that drivers with very poor or poor credit are more likely to file claims and file higher dollar claims than those with good or excellent credit.
Making the jump from the lowest score tier of 300-579 to the highest of 800-850 can help you save up to 51 percent off of your annual car insurance premiums. Even moving from very poor to fair can save you up to $950 off your annual premium. Below are the average annual rates you can expect to pay in Augusta based on your credit rating.
Very poor: $2654
Fair: $1728
Good: $1517
Very good: $1429
Exceptional: $1306
Expensive Augusta ZIP Codes
As stated by AutoinsruanceEZ, the ZIP code where your vehicle is located can also affect your car insurance costs. Areas with more traffic and higher crime rates are deemed higher risk areas. The more likely claims are filed in an area, the higher your premiums will be. The most expensive ZIP codes in Augusta are the three most densely populated and include:
Cheaper Augusta ZIP Codes
Even though the difference is slight, there are some ZIP codes in the Augusta area where you will see lower car insurance premiums. These cheaper ZIP codes are:
List of Insurance Companies in Augusta
There is no shortage of insurance companies to choose from in the Augusta area. Providers such as GEICO and Progressive are known for their ease of quoting and the availability to manage your insurance policy completely online.
State Farm and USAA offer some of the lowest rates in the city, especially for drivers with moving violations, though USAA requires military affiliation to get insurance. Other popular insurance carriers in the city are on the higher end in terms of cost, but they are known for their unique discount offerings and high marks for claims handling. They include Allstate, Nationwide, and Liberty Mutual.
No-Fault Insurance in Augusta Information
Augusta is in Georgia, which is an at-fault state. This means you will need to have enough insurance coverage to cover medical bills and property damage for yourself, your passengers, and your vehicle, as well as the other party's if you are found at fault.
Check this out if you need additional information, resources, or guidance on car insurance.
Sources:
Car Insurance | Car and Driver
Cheap Auto Insurance Quotes in Augusta, GA (2021) | Insurify
Augusta, GA Car Insurance | The Zebra
Augusta, GA Auto Insurance| AutoinsuranceEZ
Best Car Insurance in Georgia: Everything You Need to Know | Car and Driver
How Much is High Risk Car Insurance in Georgia | Car and Driver
This content is created and maintained by a third party, and imported onto this page to help users provide their email addresses. You may be able to find more information about this and similar content at piano.io
Most Related Links :
usnewsmail Governmental News Finance News