Automobile
The Best RV Insurance: Everything You Need to Know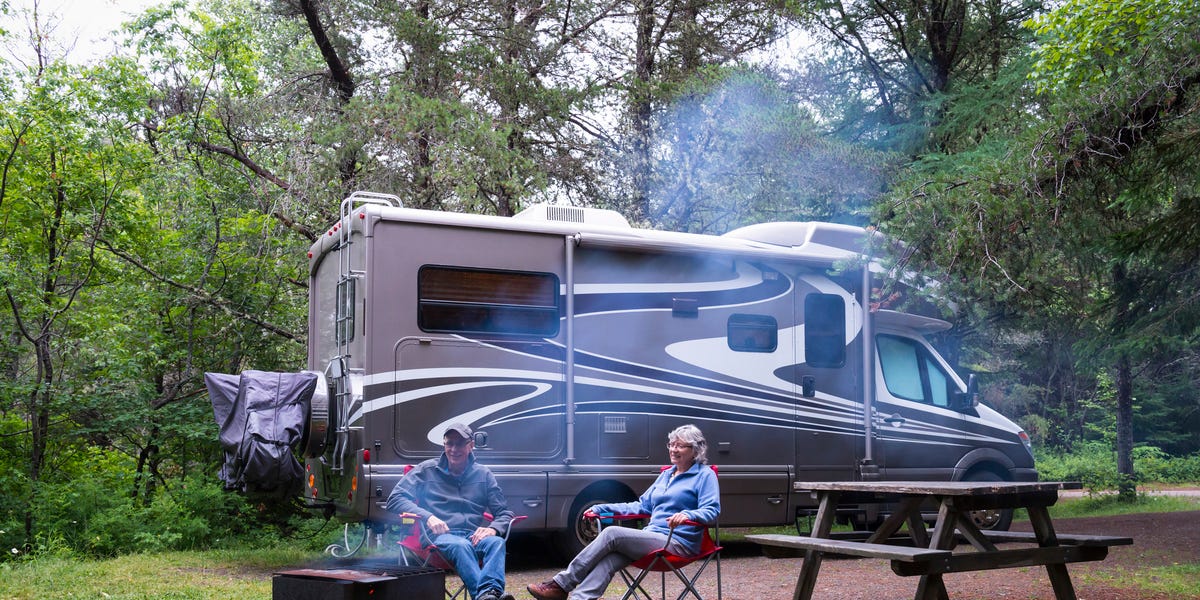 What makes one insurance policy better than another? Whether it's a fifth-wheel toy hauler or a Class C motorhome, purchasing an RV is a thrilling experience. Answer the call of the road well protected with reliable insurance. Stick with us as we reveal the carrier that offers the best RV insurance for you.
What Is RV Insurance?
RV insurance helps protect your rig in the event of loss or damage, just like your auto policy protects your vehicle. However, similar to homeowners insurance, it may cover your personal belongings as well. Its purpose is to protect your property in the event of an unforeseen circumstance, such as:
Automobile accident
Severe weather damage
Pest infestation
Theft or vandalism
Equipment damage
Most insurance policies cover the following types of campers:
Travel coaches
Truck campers
Teardrop trailers
Fifth-wheel trailers
Pop-up campers
Toterhomes
When shopping companies for the best RV insurance, consider these factors:
Your class of RV
How often you'll use it (seasonal or full-time)
Your state's minimum coverage requirements
Best RV Insurance Companies
Which carrier can you count on to protect your new RV? According to The Balance, it's National General. It's one of the largest insurance companies in the marketplace and provides the best overall protection for all RV classes. National General holds an A+ rating with the Better Business Bureau (BBB) and has a long-standing, 60-year membership with the organization.
National General is the best because it:
Offers many customizable options
Insures almost every type of RV
Provides a myriad of discounts
Delivers easy initial quotes online
National General's typical RV coverages include:
General liability
Comprehensive and collision
Personal effects
Vacation liability
RV emergency expenses
Specialized equipment
Full replacement cost
Personalized belongings (often as an add-on)
If you're still not convinced, National General offers a long list of perks, too, including:
Coverage suspension when your RV is in storage
Safe driver allowances when you complete an RV driving course
Low mileage discounts
Search assistance if your RV gets stolen
Free RV inspections after repairs
Emergency coverage for food and lodging expenses
Other RV Insurance Providers
Who secured the runner-up spot for the best RV insurance provider? Progressive did, according to Reviews.com. Founded in 1937, this company is another one of the biggest insurance providers in the U.S. It offers a variety of products such as auto, home, and RV insurance and touts a superior A+ rating from AM Best and AA from S&P Global Ratings as well as reasonable annual prices that cover all classes of RVs. Progressive offers many of the same benefits as National General, such as:
Online quotes
Various discounts, like pay-in-full credits
Bundling options for multiple policies
Customized coverage plan
Comprehensive and collision
Basic liability (motorhomes)
Uninsured or underinsured motorists
Medical payments
The company's standard plan doesn't include:
Emergency expense coverage
You can also add extras, like:
Total loss replacement
Roadside assistance
Vacation liability
Full-timer liability
Loss assessment
Pet injury coverage
Emergency expense coverage
We round out our picks for the top three best RV insurance providers with Nationwide, according to ValuePenguin. Launched in 1926, it's a Fortune 100 company with an A+ rating from the BBB. This provider offers a range of products and insures all classes and ages of RVs. Nationwide boasts some of the industry's best discounts, like:
Home and auto
Safety training
Claim-free discounts
Multipolicy discounts
Continuous coverage
RV club, alumni, and professional group membership benefits
How to Choose the Right RV Insurance Policies
Every RV must be covered by liability insurance while driving. Look for at least the minimum liability coverage requirements for the state where your RV is registered, recommends Investopedia. For example:
If your state requires 20/40/10 in liability coverage, you must purchase $20,000 per individual of bodily insurance, $40,000 of protection for each accident, and $40,000 for property damage, per accident.
Depending on how much coverage you want, your premiums will vary. Consider coverage options such as:
Comprehensive (theft, damage, acts of nature, or an impact with an animal)
Personal belongings coverage
Medical payments
RV insurance also rarely covers your tow vehicle, so plan to purchase a separate auto insurance policy. Check your carrier's fine print as some policies won't cover losses or damages caused by rodents or insects when the vehicle is parked. Most types of water damage are also not covered.
RV Insurance Coverage Features for Full-Timers
Good Sam provides some of the best RV insurance benefits for full-timers and a variety of towable homes. This BBB A+ rated company offers customized quotes online and membership discounts at participating gas stations and camping sites. The more time you spend on the road, the more your membership privileges improve.
RV Insurance Coverage Add-ons for Part-Timers
The purpose of vacation liability coverage is to protect you from the legal liability that results from injuries in and around your RV. If you plan to use your trailer seasonally, compare quotes to see what the agent did — and didn't include in the policy.
Some providers may have lower premiums for part-time RVers that don't carry as much personal property protection. These policies may include some useful features, like vacation liability coverage. This policy type provides campers with similar protection to a personal liability policy, just temporarily.
Expected Costs of RV Insurance
Per The Wandering RV, many factors affect the price of your RV's insurance. A large, luxurious Class A motorhome will cost more to insure than a small, pop-up trailer for example. Other elements include:
Class of vehicle
How often you use it
Prior claims
Your driving history
If you're in the market for insurance for your towable house, take advantage of this guide of the best RV insurance carriers for your specific needs.
Check this out if you need additional information, resources, or guidance on car insurance.
Sources:
The 7 Best RV Insurance Companies of 2021 | thebalance.com
The Best RV Insurance Companies | reviews.com
The Best RV Insurance Companies in 2021 | valuepenguin.com
The Ultimate Guide to RV Insurance in 2021 (Best RV Insurance Companies) | thewanderingrv.com
Best RV Insurance Companies | investopedia.com
This content is created and maintained by a third party, and imported onto this page to help users provide their email addresses. You may be able to find more information about this and similar content at piano.io
Most Related Links :
usnewsmail Governmental News Finance News