News
Chilling Out While You Work With These Top-Rated Desk Fans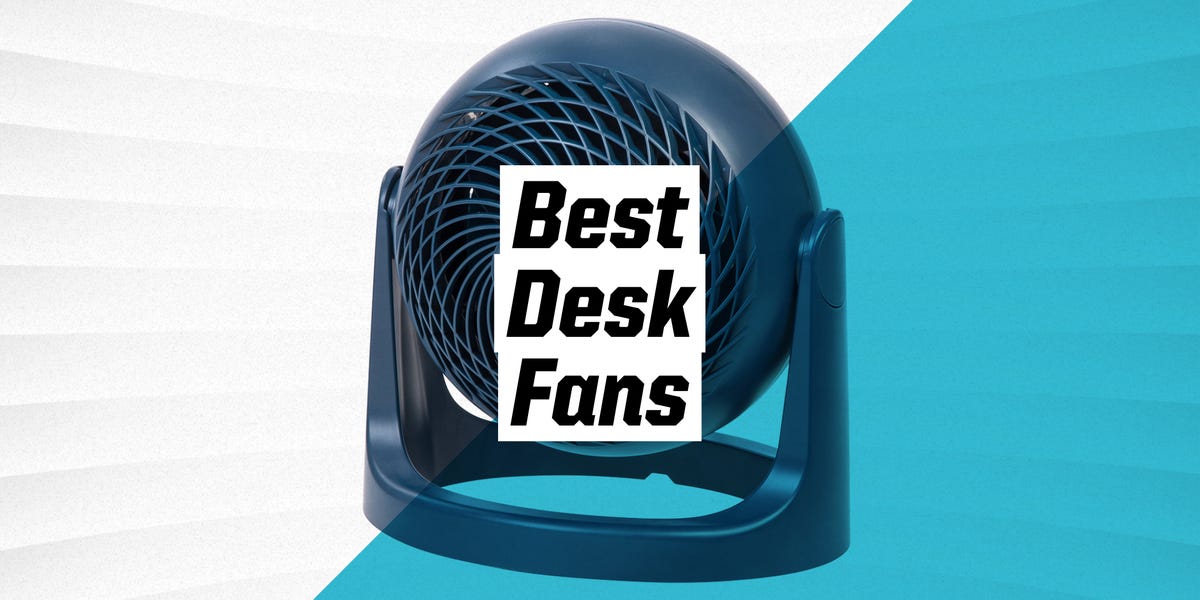 Chances are, the makeshift home office tucked in a corner of your living room or bedroom doesn't get awesome airflow. And, with the amount of time spent hovering over a laptop, you're likely spending lots of hours in a stuffy space. Your best bet? Buy a desk fan. They're smaller than table fans and larger than those mini battery-operated gadgets for the beach. Think of it as a stylish accessory that gives the gift of fresh air—plus they can help save bucks on your electric bill, if you don't need to run the AC 24/7. Read on for recommendations on desk fans that will keep you cool, regardless of your setup.
What To Consider
There's a laundry list of things to consider when shopping for a desk fan, and finding the best one for you is a matter of prioritization. Price aside, space is a good place to start. If you have a small desk or shelving above, it follows suit that you'll want a small fan—or even a clip-on option. Another practical and essential factor is whether there's an outlet close by. If not, there are cordless fans that charge via USB. Cooling power is a top consideration, typically determined by square footage of the room. Drilling down, tilt and oscillating features are handy, as they allow you to direct airflow, as are multiple fan speeds. There are also fans with auto-shutoff timers and LED lights.
How We Chose
All of the desk fans below have at least four stars, and several are rated 4.5 or higher. Our selection includes fans in a range of sizes and styles, plus we chose options across price points, from budget to high-end. As mentioned above, there are a bevy of features to take into account, and we highlighted the most notable for every fan we cover.
Advertisement – Continue Reading Below
1
Our Value Pick
Honeywell Desk Fan
Honeywell
amazon.com
$15.99
If you're looking for a basic desk fan that gets the job done without breaking the bank, this is it. Made by Honeywell, the fan is about $15 at the time of this writing and features three speeds a 90-degree vertical tilt, plus it can be wall- or shelf-mounted to save space on your work surface. It's sleek and compact, and fairly inconspicuous in jet black. It's hard to look past an average 4.6 stars from 67,000-plus customers.
2
A Step Up
Black Woozoo Desk Fan
Iris USA, Inc.
wayfair.com
$28.00
With a bit more to spend, this desk fan has a 360-degree vertical pivot for a greater range of airflow, and is said to cool 275 square feet of space—which is perfect for a home office. The three-speed compact fan features a quiet mode on the lowest setting, a recessed handle in back for repositioning without shutting it off, and a cord that's nearly 6 feet long. It's available in bright navy in addition to the black that's shown, and it gets an average 4.8 stars from dozens of enthusiastic reviewers.
3
The Industrial-Style Fan
Holmes Heritage Desk Fan
This gleaming desk fan has vintage vibes, but the rows of laser-cut metal give it an edgy, industrial look. The details make it a standout, including the chunky black side knobs and lip around the base. 
Finished in eye-catching brushed copper, the fan features six blades and two speeds, plus it tilts to adjust the direction of airflow. There's also a manual on/off switch and a carry handle in back. It's another customer favorite, with more than 7,900 reviewers giving it an average 4.5 stars.
4
The Mini Fan
Vornado Pivot Desk Fan
Vornado
wayfair.com
$19.99
For a small but mighty desk fan, this Vornado is sure to please. Inspired by Midcentury-modern design, this tiny wonder pivots on its axis to adjust the angle of airflow and features three speeds, including a quiet mode. 
It weighs under two pounds and is available in gray,  champagne, and metallic copper in addition to the chrome-white combo shown. It's also a steal, priced at roughly $20 at the time of this writing.
5
The Air Purifier Fan
Dyson Pure Cool Me Purifying Desk Fan
If you're in the market for a fan that cleans the air and keeps you cool, look no further than this one from Dyson. The compact corded electric fan packs in a powerful HEPA air filter made of carbon and glass, said to capture more than 99 percent of allergens and pollutants. 
The direction of airflow is controlled by sliding the dome on top with a 70-degree range—a cool design feature—and there's an LED panel to show airflow level and filter life. There's also a remote control, a quiet setting, and night mode with a dimmed display, in case you're working late into the evening.
6
The Retro Fan
Vornado Jr. Vintage Desk Fan
This retro beauty takes design cues from the brand's original 1945 Vornadofan. The updated version is lacquered in appealing jadeite green, with antique gold hardware and detailing. It features an old-school knob in back to flip between two speeds, plus it tilts vertically to direct the airflow. All in all, you'll get style and power for a reasonable price. The fan also comes in vintage white and chrome, and more than 2,300 customers give it an average 4.5 stars.
7
The Cordless Fan
NewG Rechargeable Desk Fan
If you want to take your desk outside this summer (and why not?), staying cool with a cordless fan is your best bet. This smart-looking USB-rechargeable fan gets rave reviews—an impressive average 4.9 stars from more than 150 customers—with thoughtful design features that check boxes for form and function. 
The three-blade fan has four speeds, with a 90-degree vertical tilt and a 180-degree side-to-side rotation, plus it's ultra quiet, with a max 45dBA rating. Buttons are conveniently on the front of the base, and there's also an LED light. The fan is said to run for 6 hours on a full charge.
8
The Oscillating Fan
White Woozoo Oscillating Desk Fan
Iris USA, Inc.
wayfair.com
$67.40
This compact white desk fan has a small footprint and a streamlined, minimalist look, plus a solid lineup of features. For starters, the oscillating fan has five speeds, including a low setting for a gentle breeze. There are six vertical tilt positions, along with a one-, two-, and four-hour auto-off timer. 
The fan stands at less than a foot tall and has a low-profile back, so you can push it to the edge of your desk close to a wall. It's designed to cool approximately 350 square feet of space and has a cord that's nearly 6 feet long. 
9
The Clip-On Fan
Opolar Clip Desk Fan
For a real space-saving option, a desk fan with a clip is the smartest choice. This 8-inch cordless option charges via USB and features an extra-large clamp that opens up to 3 inches wide, plus the fan has 360-degree rotation for maximum airflow. There are four speeds and two charging ports in back — Micro-USB and Type-C—and the fan is said to get maximum juice in roughly 3 hours. The fan also comes in black, though white looks great paired with a white desk.
10
The Foldable Fan
O2Cool Portable Desk Fan
O2Cool
wayfair.com
$26.90
Neat freaks who hate clutter on their desk at the end of the day will love this fan, as it folds down flat to store in a drawer out of sight. It's also a smart pick for anyone working in a dim corner, where a task light alone isn't cutting it, as there are LED side lights that rotate 180 degrees and offer three levels of brightness. The battery-operated fan has two speeds and is made of plastic, weighing just under 3 pounds.
This content is created and maintained by a third party, and imported onto this page to help users provide their email addresses. You may be able to find more information about this and similar content at piano.io
Advertisement – Continue Reading Below
Most Related Links :
usnewsmail Governmental News Finance News