Entertainment
8 Derm-Recommended Products to Shut Down Summer Breakouts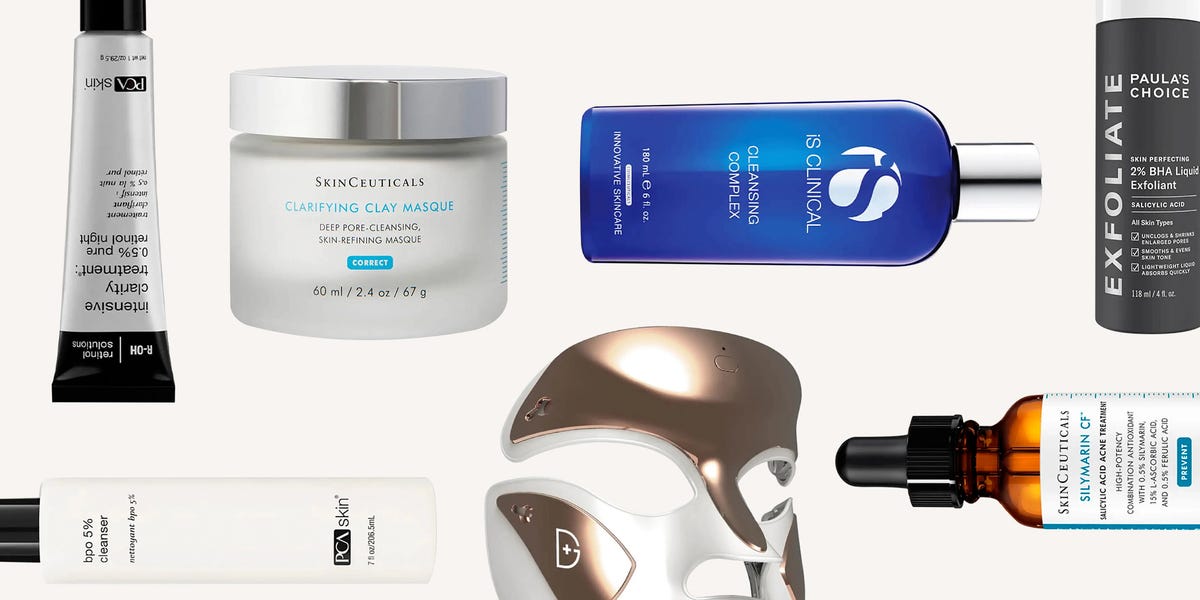 Summertime and the living is…steamy. Whether you're working out or hanging out, it's impossible not to literally come through drippin' when that July and August heat hits. And since high temps seem to go hand-in-hand with breakouts, we asked a pro for advice on how to ditch the summer acne—including which products will truly make a difference.
Heads up: it might actually be folliculitis
Many breakouts in the summertime are not true acne—they're folliculitis. "It's a condition caused by a superficial infection of the hair follicles with bacteria or yeast, which are normal parts of the skin microbiome," says Rachel E. Maiman, M.D., a cosmetic and general dermatologist at Marmur Medical in New York City. "A combination of heat and sweat can clog hair follicles and stimulate an overgrowth of these organisms." More folliculitis culprits: Wearing fabrics that don't breathe well (hey, cute face mask!), heavy makeup, and thick or heavy skincare products all tend to trap bacteria.
Small swaps can make a big difference
So how do we prevent all of this? Dr. Maiman suggests switching to lighter coverage makeup that is non-comedogenic, avoiding heavy moisturizers or oils, cleansing twice a day (even if you're able to wash just once in the winter, don't skip a cleanse in the summer), and opting for a gentle, foaming cleaner—possibly with a low percentage of salicylic acid or beta-hydroxy acid if you're usually acne-prone.
Ready to shop? Here are your derm-approved summer breakout-busters.
Advertisement – Continue Reading Below
1
Benzoyl peroxide-packed face wash
Bpo 5 Percent Cleanser
PCA Skin
dermstore.com
$39.00
Benzoyl peroxide is the acne-fighting OG. "It penetrates into the skin easily, where it's broken down into benzyl radicals, which kill bacteria and inflammatory cells," says Dr. Maiman. "This helps with dissolving the oil and dirt that clogs up your pores." Plus, aloe, cucumber, nettle, and chamomile extracts are soooo soothing. They help to hydrate and reduce inflammation—and it feels like a mini spa treatment every time you wash up.
2
Cleanser with both AHAs and BHAs
Cleansing Complex
iS Clinical
dermstore.com
$44.00
Dr. Maiman often recommends this clear, lightweight cleansing gel to acne-prone patients in the warmer months. "It contains sugarcane extract and willow bark extract, which are sources of AHAs and salicylic acid, respectively. So this cleanser delivers the exfoliating benefits of both alpha and beta hydroxy acids simultaneously." FYI: AHA smoothes the surface of the skin and BHA targets breakouts on the surface and within your pores.
3
SPF that won't clog pores
Sunforgettable® Total Protection™ Brush-On Shield SPF 50
ColorScience
dermstore.com
$69.00
Dr. Maiman keeps this super convenient powder sunscreen in her purse at all times for touch-ups. "It's a pure mineral sunscreen powder that has broad spectrum coverage for UVA and UVB protection as well as iron oxide to reduce the damaging effects of blue light (emitted from fluorescent lighting, laptops, smartphones, and more)," she explains. So why do you need this as part of your acne-reducing regimen? "Generally speaking, powder sunscreens are almost always non-comedogenic," says Dr. Maiman. "Rather than sinking into your skin, they stay on top of it, so they're especially well-suited to oily and acne-prone skin," Bonus: It has a very subtle, non-glittery shimmer that makes you ~glow~ without looking too shiny.
4
Gentle liquid exfoliator
Skin Perfecting 2 BHA Liquid Exfoliant
Paula's Choice
dermstore.com
$29.50
This contains a 2% concentration of BHA (also known as beta hydroxy acid or salicylic acid), which can penetrate oil and break down dead skin cells to unclog pores—a super helpful step in fighting breakouts. BHA can occasionally be drying or irritating, but this formula also packs green tea, an antioxidant that soothes irritation.
5
Deep pore-cleansing clay mask
Clarifying Clay Mask
SkinCeuticals
dermstore.com
$59.00
Dr. Maiman loves this mask because, she explains, a blend of alpha hydroxy acids or AHAs (malic, lactic, tartaric, citric, and glycolic acids) works together to gently exfoliate dead skin cells and reduce the likelihood that these cells will stick together and clog up pores. More AHA perks? They help stimulate the production of hyaluronic acid, collagen, and elastin, which can reduce the appearance of acne scars. Other rockstar ingredients in this mask include kaolin and bentonite (natural clays that draw out impurities and absorb excess oil), plus aloe and chamomile (anti-inflammatories that soothe and calm).
6
Bacteria-fighting blue light mask
SpectraLite™ FaceWare Pro
Dr. Dennis Gross
dermstore.com
$435.00
This space-age looking contraption uses a process known as photobiomodulation. Um, what? Photobiomodulation, Dr. Maiman explains, is the process by which light alters biological material. "Skin benefits are largely dependent on the color of light used," says Dr. Maiman. "Blue light, found in this device, is optimal for acne, because of its ability to reduce inflammation and redness as well as decrease the proliferation of P. acnes, the primary bacteria that causes acne." 
7
Vitamin C serum with salicylic acid
Silymarin CF
"This is an excellent vitamin C product for those with acne-prone and oily skin," says Dr. Maiman, "because it's oil-free and, in addition to ascorbic acid (vitamin C), it also contains silymarin (milk thistle extract), ferulic acid, and salicylic acid. Silymarin has been shown to have anti-inflammatory properties that make it useful in treating acne, as does ferulic acid, an antioxidant derived from the cell walls of certain plants." Have you heard that vitamin C serums can break you out? Dr. Maiman notes that this formulation doesn't contain vitamin E, a common addition to many vitamin C serums that can trigger breakouts if you're already prone to them.
8
Prescription-strength retinoid treatment
Intensive Clarity Treatment 0.5 Pure Retinol Night
PCA Skin
dermstore.com
$111.00
Bring on the retinoids! "Retinoids reduce the degree to which keratinocytes (skin cells) stick to each other and speeds up how fast the outer layer of keratinocytes turns over, or exfoliates naturally." This prevents dead skin cells from clogging pores (causing fewer blackheads and whiteheads) and reduces inflammatory and cystic acne. Plus, by exfoliating the skin more effectively, retinoids also help other topical acne medications penetrate more effectively since nothing is in their way. PSA: Be extra diligent with sunscreen when using retinoids—they make your skin extra sensitive to the sun!
This content is created and maintained by a third party, and imported onto this page to help users provide their email addresses. You may be able to find more information about this and similar content at piano.io
Advertisement – Continue Reading Below
Most Related Links :
usnewsmail Governmental News Finance News