Entertainment
Anniversary Gift Ideas That Say, "Thanks for Putting Up With Me!"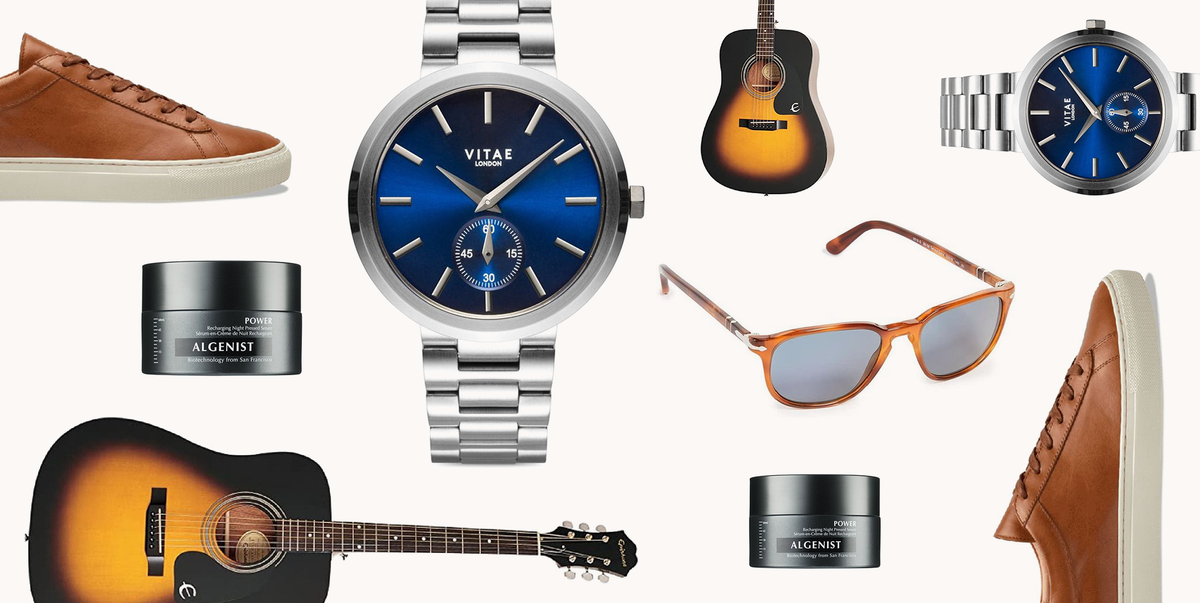 Any anniversary, whether it's 10 months or 10 years, is a major milestone that deserves to be celebrated—whatever that means to you two. Some couples love to go all out with a big, splashy date (like a romantic dinner reservation), while others prefer something simple and low-key (a Netflix movie and ice cream FTW). Either way, you'll definitely want to show up prepared with a gift for your significant other to commemorate such a special occasion. Fresh out of ideas? Let us help.
If you're scrambling for gift ideas for your partner, boyfriend, or husband, peep the list below for some inspo. From sweatpants and video games for the couple who prefers a night in to sunglasses and decanters for the couple who always goes all out, there's a present in here your other half will love. Scroll ahead for the 40 best anniversary gifts that'll help you express your love for your partner, no matter the guy's preferences or how long you've been together. You might find that you can both get some use out of these presents—it is your anniversary, too, ya know (wink, wink).
Advertisement – Continue Reading Below
1
a carryall
22″ Dean Duffel Bag – Navy Leather & Navy Canvas
Talley & Twine
amazon.com
$99.00
Let's be honest—his gym bag has seen better days. Help him retire his old duffel and upgrade with this sophisticated navy one.
2
outdoor rain gear
Rain Defender Relaxed Fit Lightweight Jacket
Carhartt
amazon.com
$59.98
If he's an outdoorsy guy, he's probably been eyeing a good-quality, water-repellant coat for a while and would very much appreciate this one.
3
a set of glasses
Carre Square Scotch Glasses
Whether he's a Scotch or a bourbon guy, these handmade whiskey glasses are the best way to sip on his favorite booze.
4
an electric grill
Electric Smokeless Indoor Grill
Chefman
amazon.com
$49.99
If the dude loves grilling so much he would do it 365 days a year, get him this indoor grill so he can.
Bevel
amazon.com
$219.95
$179.99 (18% off)
Whether he's a sucker for sleek design or in need of new clippers, he'd love this cordless trimmer. Now if only he could remember to clean up those little hairs and clippings…
6
hiking boots
Portland Select Mountain 600 Hiking Boot
Danner
amazon.com
$194.99
Plan a weekend hiking trip to celebrate your anniversary, and wrap up a pair of these classic boots to get him excited about a weekend away together.
7
a pair of socks
Men's 5-Pack Patterned Socks, Party, One Size
Goodthreads
amazon.com
$15.90
If the honeymoon phase is over and you're celebrating your second year of marriage, a pair of cotton socks will be perfectly on-theme and practical.  
8
a quiet coffee grinder
Ode Coffee Grinder
Fellow
food52.com
$299.00
True story: I'm celebrating my anniversary in a couple of days and got my hubs this *quiet* coffee grinder that works for pour-overs, French presses, cold brews, and more. Hope he's not reading this RN.
9
a weighted robe
Modernist x Gravity Weighted Collar Fleece Robe Navy – L
Gravity
amazon.com
$130.00
If you got him a weighted blanket for a past anniversary and he still loves it as much as he did when he first opened it, gift him a weighted robe this year. The collar of this soft, fluffy robe weighs 3 pounds to give him all the comfort he needs in the morning.
10
a shower speaker
Moxie Bluetooth Showerhead, Shower Speaker
Kohler
amazon.com
$198.92
If the guy is always bringing his phone or speaker into the bathroom so he can jam out or catch up on a podcast while he showers, he needs this hybrid showerhead and speaker. Yup, you read that right. The showerhead not only blasts hot water, but it also syncs up to Bluetooth to blast music.
11
comfy slip ons
Handmade Suede Espadrille Mule Shoes for Men
Ubuntu Life
amazon.com
$120.00
These leather slides with jute soles are the perfect gift for your sole-mate. See what I did there? 
12
a classic watch
Elmington Bracelet Watch, 36mm
VITAE LONDON
nordstrom.com
$259.00
A watch with a cool blue face and stainless steel band will totally be up his alley. It'll complement all his outfits, and he won't want to leave the house without it. 
13
a watch carrying case
Watch Travel Case
M Mirage Luxury Travel
amazon.com
$69.00
…and the best way to wrap that new watch? With a watch roll that he can reuse while traveling. And for all of you celebrating three years, it's made of vegan leather, too!
14
a short-sleeve dress shirt
On Point Flex Pro Lite Slim Fit Button-Up Shirt
GOOD MAN BRAND
nordstrom.com
$128.00
Might want to get this cotton, fitted, stretchy dress shirt in a color that goes with most of his wardrobe because this is one he'll want to wear all summer long.
Persol
amazon.com
$230.00
$115.79 (50% off)
These brown sunnies stand out, but thanks to the marbled pattern, they'll look so effortless and cool on him. 
16
a stylish silver bracelet
Silver Chain Logo Bracelet
A-COLD-WALL*
ssense.com
$224.00
If he loves stacking bracelets on his wrist or has always wanted a simple piece of jewelry, a stainless steel chain bracelet is minimal yet sharp.
17
lightweight linen pants
Drawstring Pant, Natural Linen
Perry Ellis
amazon.com
$50.68
These linen drawstring trousers look like dress pants but feel like lightweight sweatpants—what more could he want?! Consider these his new go-to bottoms to wear during warmer months.
18
a wine gift box
Fresh Reds
Vine Box
getvinebox.com
$95.00
This sampling set is like boxed wine—but better. Inside this gift box, he'll find nine glass-sized tubes of red wines that you two can sample together.
19
a bluetooth turntable
Cruiser Deluxe Stereo Turntable
Whether he's an avid record collector or has always wanted to get into vinyl, get him a retro suitcase turntable he can set up anywhere around the house. 
20
a customizable love story
Better Together Personalized Book of Love
Uncommon Goods
uncommongoods.com
$40.00
Your love is basically a storybook romance worthy of its own book, so turn it into one already! With this picture book, you can customize everything about it—from the characters to the storyline—and capture your love story on paper.
21
a box of date ideas
A Box of Date Night Cards
AYearofDates
etsy.com
$41.26
With this gift, you'll find 51 unique date ideas so you never run out of ideas and you can schedule a cute weekly date night.
22
a leather tray
Leather Anniversary Tray
PaperAnniversaryLove
etsy.com
$89.00
If you're past the point of catching feelings, then you should get him a catch-all tray with your names and anniversary date printed inside so he never, ever forgets it.
23
a custom skincare kit
Customizable Skin Kit
Buttah.
buttahskin.com
$59.99
His skin's about to become soooo smooth. Designed for all skin types, pick a moisturizer (facial shea butter or  cocoshea revitalizing cream), then let the vitamin C serum and cleanser do the rest of the work to lock in moisture and leave his face glowing. 
24
a DIY sushi kit
DIY Sushi Kit
Williams Sonoma
williams-sonoma.com
$34.95
Whether you plan on surprising him with homemade sushi for dinner or wanna challenge yourselves to learn the craft of sushi-making together, get this kit that has everything you'll need.
25
an at-home putting green
Grassroots Par Three Putting Green
An at-home putting green for practicing would be much appreciated for someone who's looking to improve their short game. 
26
a pair of comfy sweats
CloudKnit Sweatpants
Outdoor Voices
outdoorvoices.com
$88.00
If you two are a couple of homebodies, a cozy pair of sweatpants would definitely be his thing.
27
a brand new sheet set
Percale Sheet Set
Parachute Home
parachutehome.com
$109.00
There's arguably nothing that feels better than going to sleep with fresh sets on the bed. This cream colored set goes with almost any decor. 
28
an acoustic guitar
DR-100 Acoustic Guitar Vintage Sunburst
Epiphone
guitarcenter.com
$149.00
Now's the time for picking up some hobbies, so whether he's a beginner or he has some practice under his belt, he'll love a top-rated acoustic guitar—especially in these standout colors.  
29
a classic video game
Super Smash Bros. Ultimate
Nintendo Switch
walmart.com
$59.60
If he's already got a Nintendo Switch, he'll be all about a game of Super Smash Bros. And the two of you can even play together! 
30
a DIY beer kit
Beer Making Kit
Everyday IPA
williams-sonoma.com
$47.95
Yes, he's a beer aficionado, but has he ever tried to make his own? This kit includes all the essentials to brew his own IPA, including grain, hops, and yeast—and it also comes in five other types. 
31
a skin serum
POWER Recharging Night Pressed Serum
Algenist
sephora.com
$95.00
If your guy's into skincare, praise him. A night serum that gets rid of dullness, fine lines, and wrinkles is something he'll love—especially when he can sleep with it on. 
32
a photo collage frame
Terrace Triple Frame – Nickel
West Elm
westelm.com
$42.00
A modern frame for a collage of throwback photos—aww, how sweet!
33
a cute notebook
How Do I Love Thee
Uncommon Goods
uncommongoods.com
$20.00
Who wouldn't want a journal that details every little thing someone loves about you? For all those couples out there who like to be romantic through writing, this one's for you.
34
luxe leather sneakers
Capri Castagna
If he's been searching for that perfect "everyday shoe" (i.e., one that looks dressy and casual at the same time), then he'll so appreciate a low-top leather pair. 
35
a customized star map
Custom Star Map Print
VelvetPrint
etsy.com
$22.14
Get a map of the place where you first said "I love you" or "I do"—he'll love the special meaning behind it. 
36
a classy decanter
Glass Decanters with Wood Stoppers
West Elm
westelm.com
$39.50
If he's into wine or whiskey, he'll definitely enjoy a statement decanter that'll make any vintage that much smoother.
37
an earthy cologne
Y Eau de Parfum For Men
Yves Saint Laurent
saksfifthavenue.com
$100.00
Even if fragrances might not be his thing, one whiff of this (with its notes of sage and bergamot) will totally change his mind. 
38
a scrapbook photo album
Scrapbook Album | The Stories We Tell
Artifact Uprising
artifactuprising.com
$89.00
Have too many adorable pics to count? Gather them up and put them all together in a photo album that you'll both love to look back on throughout the years. 
39
a pair of headphones
Solo Pro Wireless Noise Cancelling On-Ear Headphones
Beats
amazon.com
$299.95
$186.99 (38% off)
These noise-canceling Bluetooth headphones are top-rated and top-quality; plus, they have 22 hours of play time (or 40 hours with noise-canceling and transparency turned off) and can conveniently fold up for better storage. 
40
a thin leather card case
Dark Brown Leather Card Holder
KingsleyLeather
etsy.com
$95.53
He's been needing a new wallet for a while, so now's the perfect time to get him a slim leather one that easily fits in his pocket. 
This content is created and maintained by a third party, and imported onto this page to help users provide their email addresses. You may be able to find more information about this and similar content at piano.io
Advertisement – Continue Reading Below
Most Related Links :
usnewsmail Governmental News Finance News