Health
What It Feels Like to Have a Pipeline Cut Through Your Town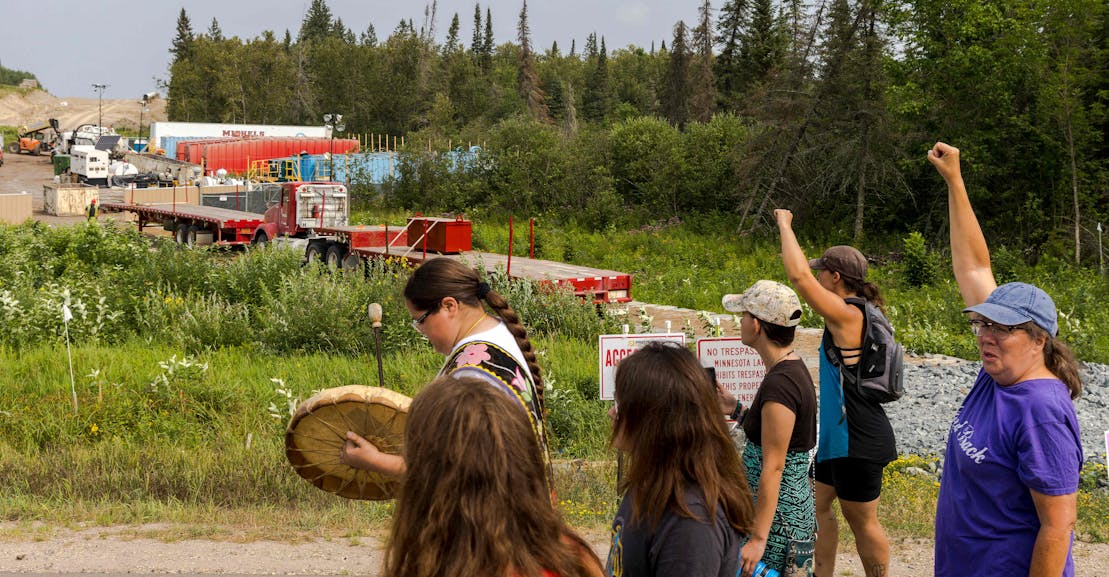 Keezer, who just turned 45, is Anishinaabe (also known as
Ojibwe), a nation of people who never left the region because they signed
treaties with the U.S. government in the mid-1800s that made allowances for
land sharing—white settlers could come in as long as the Anishinaabe retained
their rights to hunt, fish, and gather wild rice in these wetlands, as they had
for centuries. So Keezer has never considered himself a "protester" but, rather,
a defender
of treaty law and the last nonpolluted rivers, lakes, and streams in the
state. He's part of a Water Protector movement led by Native women, including
his cousin Dawn
Goodwin, who invited people from all over the world to come to Minnesota
for rallies, marches, and direct actions to stop Line 3. More than 800 people
have been arrested so far, and videos of those actions
document the powerful emotions motivating Water Protectors to risk bodily harm.
"If humans go extinct, at least we went out fighting, but
it's not too late, I think," said Keezer, as we sat on the railing of a Route 2
bridge watching Enbridge workers pump water out of the Mississippi River to
power a drill. "These battles here are the ones we have to win."
I kept moving south and then east along the line, watching
Enbridge teams working their way through vacation lake towns and state forests.
It was amazing to contemplate, the company's feat of securing state and federal
permits for more than 200 freshwater crossings.
About two-thirds of the way across the state, I stopped at a
woodsy campsite for activists called the Welcome Water Protectors Center.
Shanai Matteson is a sixth-generation Minnesotan whose Eastern European
ancestors immigrated to work in area iron mines. Ember Rose Phoenix (a
ceremonial name, she said), is a herbalist with family in Duluth, where her
ancestors settled after escaping enslavement. Both women arrived at the
camp to help oppose the pipeline. But they now say they will stay even after
construction is over to help model greener ways of living to Minnesotans.
Most Related Links :
usnewsmail Governmental News Finance News