Sports
Kershaw exits; playoff status 'not looking great'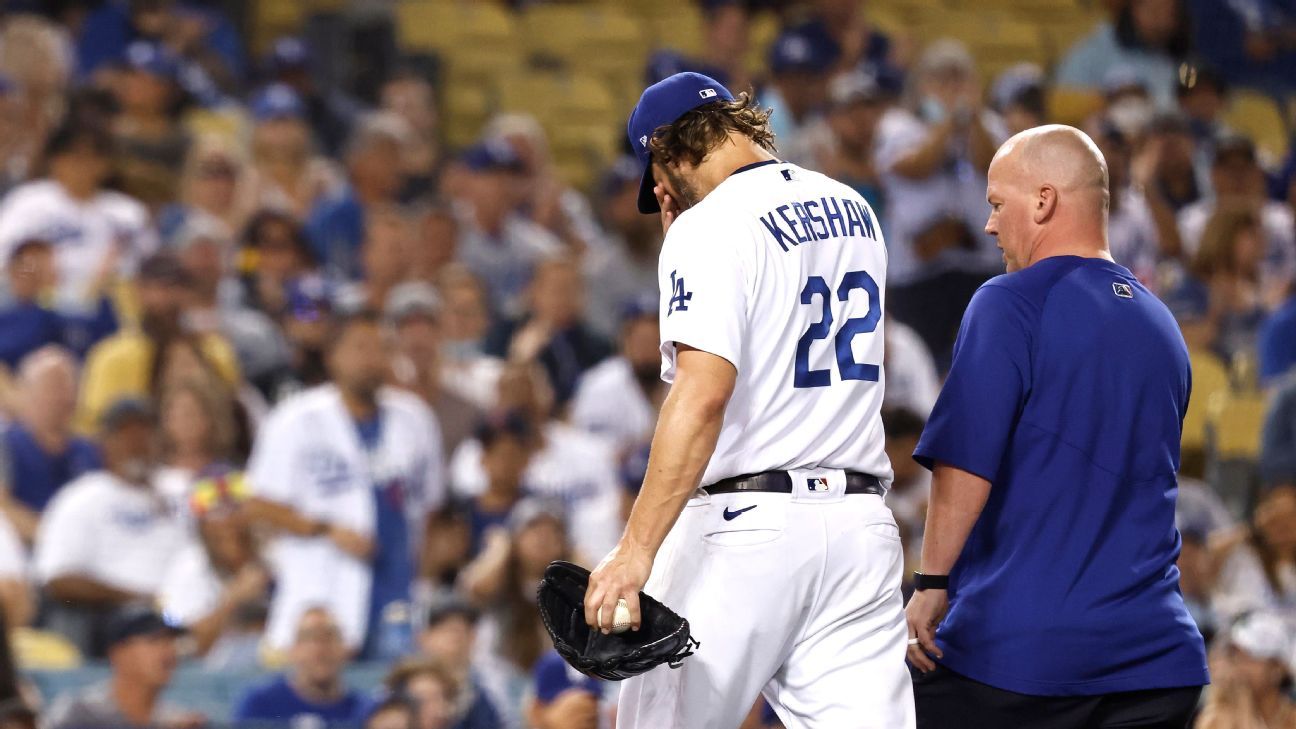 Clayton Kershaw exited his final regular-season start early Friday night in Los Angeles after experiencing left forearm discomfort and said afterward that the chances of him pitching in the postseason are "not looking great."
The lefty departed the game with two outs in the second inning after throwing 42 pitches in an eventual 8-6 comeback win over the Milwaukee Brewers. Kershaw was making his fourth start since returning from a more-than-two-month absence due to inflammation in his pitching elbow.
"Just felt something there in my elbow in the second inning," Kershaw said. "Forearm, elbow, I don't know what it is. Kind of the same thing I've been dealing with, and it just got bad enough to where I couldn't keep going tonight. I'll get it looked at obviously in the next couple days. Haven't quite wrapped my head around that yet.
The biggest thing is I just wanted to be part of this team going through October. This team is special. You saw tonight. … I know that we're gonna do something special this year, and I wanted to be a part of that. That's the hardest part for me right now is that chances are it's not looking great for October right now. Overall, it's gonna be fun to watch. And I'm excited for these guys to do what they're gonna do in October."
A pending free agent on a Dodgers team that could potentially end its season in Wednesday's National League Wild Card Game, Kershaw received a rousing ovation from the Dodger Stadium crowd on his walk back to the dugout.
He held on to the baseball rather than hand it off to Dodgers manager Dave Roberts when walking off the mound.
"We're gonna do some more tests tomorrow but obviously when Clayton has to come out of a game it doesn't bode well," Roberts said. "What that means, we just don't know enough right now. Where we are, what's left in the season, just not too optimistic right now."
Kershaw, 33, allowed the same number of hits as he recorded outs (five) and was charged with three earned runs, allowing five batted balls that traveled faster than 95 mph. It marked the first time in any game in the Statcast era (since 2015) that at least half the batters Kershaw faced had a hard-hit ball against him.
His 2021 regular season ends with a 3.55 ERA in 121⅔ innings.
The Dodgers are two games behind the Giants in the NL West with two games left to play. If they miss out on their ninth consecutive division title, they'll host the St. Louis Cardinals next week. Max Scherzer would be set to start opposite the Cardinals' Adam Wainwright.
ESPN Stats & Information was used in this report.
Most Related Links :
usnewsmail Governmental News Finance News