Tech
35 Best Tool Gift Ideas That Won't Break the Bank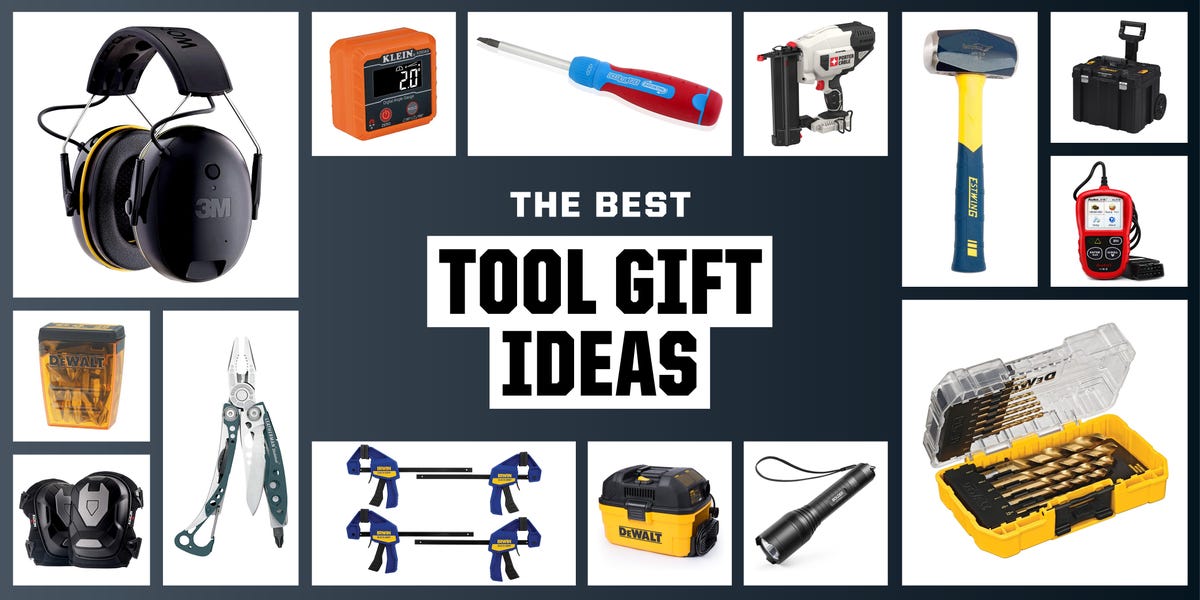 Shopping for a tool nut can be overwhelming, especially considering the sheer number of tool types, sizes, and prices out there. Luckily, we curated this list of 35 gift ideas that nearly any tool lover will appreciate, whether they're a weekend warrior, casual tinkerer, or beginner just starting out.
Even if you're not sure what your recipient's tool collection looks like, there's a good chance that even if you end up choosing something they already have, they're still going to appreciate having a backup option. Considering this, we made sure to include the brands and models that we have come to trust over the years, and did our best to avoid any cheap or flimsy options.
Also, since your budget may vary, we included a healthy balance of prices, from lower-priced stocking stuffers under $20, all the way up to $200 power tools. Check out the best tool gifts now for the handyman in your life.
Got a woodworker or avid DIYer in your life? We have gifts for them, too.
Advertisement – Continue Reading Below
1
Best Compact Multitool
Leatherman Skeletool
LEATHERMAN
amazon.com
$64.95
This Leatherman multitool is small enough to easily slide into a pocket or clip onto a belt loop, and its versatile design ensures that its user will be prepared for a range of grabbing, cutting, screwing, and snipping tasks. Its 25-year warranty is a nice perk as well.
2
Best for Tiny Nuts and Bolts
Cobra Water Pump Pliers
This pint-sized wrench might be small in size, but its 11 adjustment positions and extra-sturdy steel construction make it more versatile than you might think. Plus, its slim shape easily fits in your pocket until you need it. A special pinch guard also protects your fingers while squeezing.
3
Best Extra-Long Phillips Bit
6-Inch Power Bit
It might not be the most frequently used bit, but for those screws that require an extra-long reach, this 6-inch option will be a lifesaver. It's made of strong alloy steel and utilizes a special corrosion resistant finish, so it should hold up for a long time.
4
Best Overall Bit Set
Screwdriver Bit Set
Every tool lover can do with more driver bits, and this DeWalt set provides a nice variety of sizes and types, plus a pair of commonly used nut drivers. Its transparent case makes it even more convenient, allowing users to know what's inside without opening it up.
5
Best Ratcheting Screwdriver
13-in-1 Tamperproof Ratcheting Multi-Bit Screwdriver
Channellock
amazon.com
$29.95
The ratcheting design of this screwdriver can deliver 220 pounds of torque, making it great for those who want to minimize unnecessary arm fatigue during projects. It also boasts an impressive amount of bit types, like two hex sizes, all organized conveniently in the handle itself.
6
For Coffee Lovers, Too
Handyman Coffee Mug
BlueFishMugs
etsy.com
$23.95
The handyman in your life will always know how much you appreciate their skills every time they drink their morning coffee from this mug. It can be personalized, has graphics on both sides, and is both microwave- and dishwasher-safe. 
7
Best Work Gloves
The Original Coyote Tactical Work Gloves
Mechanix Wear
amazon.com
$23.19
We don't have to tell you—let the 16,000 5-start reviews fill you in on how great these work gloves are. They're form-fitting and made from a quick-dry fabric, and stay secure with a rubber-and-Velcro closure. Plus, they're machine-washable and come in a few different colors.
8
Best Rugged Option for Organizing Small Parts
Utility Bags
Klein Tools
amazon.com
$38.57
It can be easy to lose small hand tools and accessories at the bottom of a tool box, which is why these Klein bags can be so useful to anyone who needs to keep their gear organized. The six bags each have a distinct color, making it even easier to keep things in their right place.
9
Best for General-Use Clamping
Quick-Grip Clamps
Any tool lover will appreciate a good bar clamp, and this set of four Irwin clamps won't disappoint. It includes four individual bar pieces, and thanks to the comfortable grips and trigger release, are nearly effortless to operate. The rubber jaw pads will also protect any delicate or fragile surfaces they might be used on.
10
Best Onboard Drill Organizer
Magnetic Bit Holder
StealthMounts
amazon.com
$19.95
Anyone with a power drill will appreciate one of these handy little contraptions, which keep up to five bits organized on the tool itself, instead of in your pocket. Just make sure to choose the one compatible with the intended drill brand, whether that's DeWalt, Bosch, Makita, or Milwaukee. 
11
Best Personalized Tool Gift
Personalized 12-in-1 Hammer Multitool
PrecisionMemory
etsy.com
$37.49
This is our favorite personalized tool gift. It's a mini hammer that you can engrave with anything you want, and it comes with 12 different tools, ranging from pliers to a saw to a bottle opener.
12
Sleek Tool Belt
Leather Tool Belt
Danner
huckberry.com
$65.00
Replace their ratty old tool belt with this sleek one from Danner. It's made of thick leather and suede, and has an adjustable belt to fit waist sizes 29-46. They'll get two large pockets and three small pockets to hold all their tools, as well as a hammer loop, too.
13
Best Stubby Screwdriver
6-In-1 Stubby Ratcheting Screwdriver
Klein Tools
amazon.com
$17.21
The compact size of this Klein Tools screwdriver not only makes it a great stocking stuffer, but also perfect for accessing tight or awkward areas that traditional screwdrivers would have trouble with. Its ratcheting design also makes it comfortable to use, especially with one hand.
14
Best Hole Saw Kit
Craftsman Hole Saw Kit
Craftsman
amazon.com
$76.59
These Craftsman hole saws allow you to quickly and easily create perfectly circular holes in wood or metal, and a storage case keeps all six sizes neatly organized. The included pilot bit prevents any walking or movement when starting too, which should prevent those unsightly tooth marks on your work surface.
15
Best Compact Shop Vac
DeWALT Wet Dry Vac
This compact vacuum could be a great choice for those looking for an alternative to their bulky and heavy shop vac. Thanks to a top-mounted carrying handle and 13.25-pound weight, this little machine is simple to carry up a ladder—or if you like, store in your car trunk for unexpected cleanups.
16
Best Battery-Powered Brad Nailer
Cordless Brad Nailer
PORTER-CABLE
amazon.com
$149.99
The battery-powered design of this Porter Cable tool allows you to fire up to 1,300 brads on a single charge, without having to hassle with noisy compressors and wrangling air hoses. It's also impressively easy to use, thanks to the easy-to-read diagrams and instructions on the tool itself.
17
Best Over-Ear Bluetooth Ear Protection
3M WorkTunes Hearing Protection
3M Safety
amazon.com
$73.27
For anyone working around loud power tools or lawn equipment, proper ear protection is essential to prevent long-term damage. This 3M headset does just that, and thanks to its Bluetooth connectivity, allows you to listen to music, podcasts, or even take a phone call without taking them off.
18
Best Rotary Tool Kit
Rotary Tool Kit
Dremel
amazon.com
$232.78
Handheld rotary tools are invaluable for a wide variety of repair, maintenance, and construction projects, and Dremel brand options have become the gold standard. This kit comes with 45 accessories to ensure you'll be prepared for anything, as well as a transparent shield to protect you from sparks or debris.
19
Durable Tool Bag
Carhartt Legacy Tool Bag
Carhartt
amazon.com
$60.69
This durable tool bag is designed to hold every tool they'll need to cart around. It has 23 pockets on the outside, 11 on the inside, and a metal frame that'll keep the bag from collapsing. This bag comes in a couple different sizes, some of which come with a rubber bottom for extra durability. 
20
Best 12-Volt Cordless Drill
DeWALT Cordless Drill Combo Kit
DEWALT
amazon.com
$168.95
It might weigh less than 2 pounds, but don't let the size of this compact drill fool you. Its 12-volt motor still provides an impressive amount of power, and with 15 clutch settings, is versatile enough to tackle a wide range of projects. This kit also comes with an impact driver, which has three settings made for the utmost accuracy.
21
Best High-End Precision Screwdriver Set
Wiha Precision Screwdriver Set
We're huge fans of Wiha products, and this set of precision screwdrivers would be a great addition to anyone's tool collection. It includes seven individual drivers—slotted and Phillips—all of which feature a rotating end cap for maximum control when working on those tiny screws and fasteners.
22
Best for Organizing Small Pieces
Tool Organizer
Few activities waste more time in a garage or workshop than searching through a pile of fasteners, looking for the correct size you need. This DeWalt toolbox is designed to keep your small screws, nails, anchors, and other small accessories separated and organized. The removable bins are really convenient when you don't need to bring the whole case.
23
Best Compact Cutter for Heavy-Duty Jobs
Compact Mini-Bolt Cutter
When it comes to raw cutting power, few tools have impressed us as much as these Knipex bolt cutters. Even though they're just 8 inches long, their hardened steel jaws can snip through thicker wire than you might think, and the coated handles provide a safe, secure grip while you work.
24
Best Ultra-Bright Rechargeable Flashlight
Anker Bolder LC90 Flashlight
A reliable flashlight is one of the most important accessories to have in your toolbox. This Anker model provides an extra-bright, zoomable beam to illuminate your workspace, and thanks to its built-in rechargeable battery and USB cable, you can easily keep it fully charged.
25
Best for Those Who Frequently Use #2 Philips Drill Bits
#2 Phillips Screwdriver Bits
Number 2 Phillips bits are the most common size and type of bit most people will use, and unfortunately they're also the one that gets lost the most. This 25-pack dispenser will ensure that you'll always have a spare within easy reach, and their hardened steel construction will stand up to heavy-duty use.
26
Best Affordable Vise Grip Set
Vise Grip Locking Pliers Set
The extra-strong clamping power and adjustable jaws of these Irwin vise grips make them a great gift for any tool enthusiast. Unlike regular pliers, they do all the grip work for you and their hardened teeth and locking jaws make them invaluable when it comes to frustrating tasks like stuck screws or broken-off keys.
27
Best General-Use Pry Bar Set
Rexbeti Pry Bar Set
REXBETI
amazon.com
$39.99
Although they're ideal for automotive work, these Rexbeti pry bars will come in handy for any prying or pulling tasks. This versatile kit includes four different sizes, each of which feature a hard steel end cap, so they're safe to use a hammer on for those stubborn jobs.
28
Best for Heavy-Duty Hand Cleaning
Gojo Hand Cleaner
A jug of this Gojo hand cleaner has been a staple of every workshop, garage, and utility closet we've ever worked in, and for good reason. Its tiny pumice particles are rugged enough to easily scrub off oil, dirt, grease or paint, but somehow gentle enough to leave your hands feeling soft and not overly dry.
29
Best for Amateur Mechanics
Engine Fault Code Reader
Instead of driving to a mechanic to find out why your check-engine light has turned on, use this handy little device to find out exactly what's wrong first. It plugs directly into your car and immediately displays the diagnostic code, as well as an explanation of what it means.
30
Best All-Purpose Knee Protection
NoCry Professional Knee Pads
Preventing long-term knee issues is important for everyone, and these NoCry knee pads do just that. Their gel core and foam cushions provide maximum comfort while you work, and the breathable design will reduce sweat and overheating. Plus, unlike other models, they won't scuff up your hardwood floors.
31
Best for Marking on Dirty or Wet Surfaces
Milwaukee Inkzall Marker
MILWAUKEE'S
amazon.com
$25.99
As much as we love the classic Sharpie, these Milwaukee markers are superior when it comes to writing on dirty, wet, or duty surfaces. You get four in a pack, they can clip onto your hard hat, and since they're also designed to dry quickly, you shouldn't have to worry about smearing.
32
Best for Those Working With Small Fasteners
Flexible Magnetic Pick-Up Tool
This convenient magnetic grabber tool should be a staple in any toolbox. It's strong enough to pick up objects up to 8 pounds, and since the 20-inch shaft can be bent and twisted however you like, chances are good that you'll be able to retrieve that dropped screw or fastener. 
33
Best for Electrical Work in Tight Areas
LED Magnetic Light
Large flashlights and work lights can sometimes be too bulky for some applications, which is why this little LED light is so handy. It uses a tiny magnet to attach directly to your pliers, making it especially useful for reaching into electrical cabinets. It also comes with a keychain for easy transport. 
34
Best for Small-Scale Demolition Tasks
Estwing 3-Pound Sledge Hammer
Estwing
amazon.com
$35.47
This 3-pound sledgehammer is a great size for both small and large demolition tasks, and provides a bit more control and precision than a full-sized sledge. Its nonslip grip keeps it securely in your hand as you swing, and the yellow fiberglass handle is hard to lose track of in a cluttered work area.
35
Best Compact Level
Digital Level and Angle Gauge
Klein Tools
amazon.com
$29.97
We love the compact size of this little level and angle gauge, which would come in really handy in cramped areas that longer tools wouldn't fit. Its large digital readout makes it easy to read from across the room, and the screen even rotates for when you need to use it upside down.
This content is created and maintained by a third party, and imported onto this page to help users provide their email addresses. You may be able to find more information about this and similar content at piano.io
Advertisement – Continue Reading Below
Most Related Links :
usnewsmail Governmental News Finance News