News
The 7 Best Gaming Desks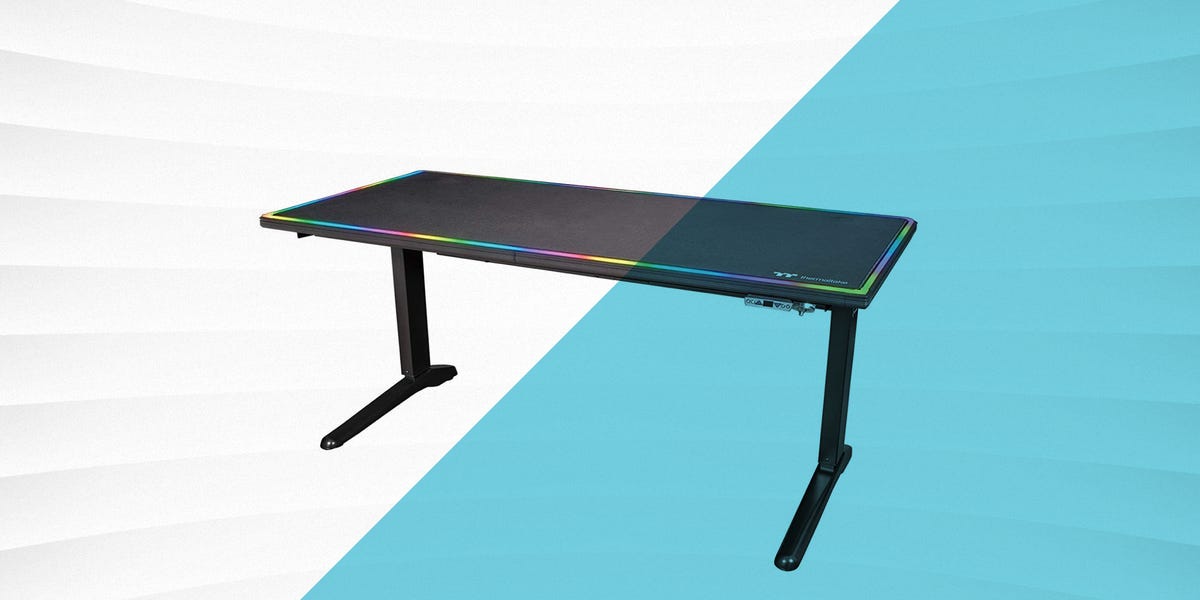 Staff, Courtesy of Thermaltake
Gaming desks offer sturdy and reliable surfaces on which you can set up the perfect game rig or a streaming battle station. There are decisive differences between many gaming desks and your run-of-the-mill office spaces. If you're looking for the best desk for you, there are several factors that might influence your decision.
Features to Consider
Most gaming desks resemble your everyday workspaces at a glance. But the best gaming desks offer improved ergonomics, additional USB ports, better cable management solutions, and some even have RGB lighting for that extra bit of pizzazz.
For example, gaming desks tend to feature larger surfaces to accommodate multiple monitors, larger or wireless keyboards, and the massive mouse pads needed for gaming. Some come with alcoves to store headsets or other gaming gear.
You can also look for cutouts and desk configurations, such as L-shaped designs, meant to make it more comfortable to move from one part of the desk to another. In addition, some models also offer flexible height adjustment similar to standing desks—when you're in a marathon session of Final Fantasy XIV or Apex Legends, you want to be as comfortable as possible.
Finally, there's a variety of styles. Choose a muted tone for maximum versatility, or pick an exaggerated color scheme with bright hues that can match your desk's perfect companion: a gaming chair.
Game On: 7 Gaming Speakers for an Elevated Experience | The Best 4K Gaming Monitors for Maximum Graphical Fidelity | Smash the Competition with an Ultra-Accurate Mechanical Keyboard
How We Selected These Gaming Desks
As a lifelong gamer, I've sat at my fair share of gaming desks both meant to support my lengthy hours in-game and all the adjacent work I do creating content around those titles. I've purchased regular office desks, standing desks, and I've attempted to game without a desk, sitting on the sofa hunched over a gaming laptop. I've learned a lot about what works in terms of ergonomics, comfort, and improving the overall gaming experience.
Based on my personal experience trying many desks, researching new models, and evaluating consumer reviews, I chose a range of gaming desks that will work best for every type of gamer. Many will appeal to a broad swath, and some are better if you like lengthy gaming sessions, prefer streaming, or are involved in gaming content creation.
---
Advertisement – Continue Reading Below
Eureka
amazon.com
$219.00
$189.99 (13% off)
Key Specs
• Dimensions: 44.5 x 24.2 x 30.5 in.
• Height-Adjustable: Yes
The Eureka Z1-S is an affordable yet feature-rich desk that offers a supportive frame and attractive design. I've used in my own home and appreciated the adjustable, lightweight build. It includes a built-in cupholder, raised edges to protect your walls, and blue lighting on the sides to give it that extra bit of oomph. Its carbon fiber patterning gives it a professional aesthetic. It's smaller than some options here though, so if you need a lot of space, you should consider one of our larger recommendations.
Affordable
Versatile design
Built-in cupholder and ambient lighting
A bit small for some users
Best Motorized
ApexDesk Elite
ApexDesk
amazon.com
$600.89
Key Specs
• Dimensions: 60 x 27 x 48 in.
• Height-Adjustable: Yes
I've tested quite a few motorized desks throughout my career, as I work with multiple monitors that I constantly need to adjust for better angles. But most have faltered a bit in terms of their overall offerings. The ApexDesk Elite does no such thing—it's the best motorized desk I've tried that truly puts in work without requiring much from you. The dual-motor lifting system moves between 29 and 49 inches with just a button press, and the Elite can hold up to 235 pounds. There's plenty of desktop space, beveled edges, and five different colors to choose from. If you use multiple monitors and want to customize the desk to your liking by raising it or lowering it, this is a great option.
Excellent motorized features
Expansive desktop space
Simple to adjust
Pricey
Not as many features as some cheaper desks
Best Budget Desk
Mr. Ironstone Gaming Desk
Mr. Ironstone
amazon.com
$119.99
Key Specs
• Dimensions: 45 x 24 x 30 in.
• Height-Adjustable: No
You don't have to break the bank when it comes to a great gaming desk. The Mr. Ironstone Gaming Desk is an excellent budget choice that offers a massive gaming space. Its carbon fiber construction ensures it remains sturdy even when loaded with gaming monitors and accessories. For the price, you also get a great array of accessories. It includes a built-in socket with three outlets and two USB ports so you can stay connected more efficiently than with a regular desk. It also includes a cupholder, headphone hook, and multiple cable management tools. The desk supports up to 110 pounds and includes adjustable leg pads to ensure it remains on solid ground, even if you're placing it on carpet. All that at a price that won't force you to dig deep into your wallet.
Plenty of desktop space
Very affordable
No keyboard tray or height adjustability
Best Standing Desk
FlexiSpot Comhar EG8
FlexiSpot
amazon.com
$399.99
Key Specs
• Dimensions: 48 x 24 x 28.3 in.
• Height-Adjustable: Yes
Standing while gaming has health benefits and is an option more gamers are considering. Although the FlexiSpot Comhar EG8 isn't gaming-specific, it's an excellent choice if you're looking to work work on your posture after sitting through an all-night gaming session. Its glass-top surface is incredibly sleek, and it fits in quite well with your home decor. You can easily raise or lower the height using the control panel on the side of the desk; select from the preset options or customize to your liking. It features one USB-C and two USB Type-A charging ports, too.
Tempered glass top
USB-A and USB-C charging ports
Speedy and sturdy lifting mechanism
No gamer-specific features that some users might miss
Best L-Shaped Desk
Walker Edison L-Shaped Glass Gaming Desk
Walker Edison
amazon.com
$249.00
$115.77 (54% off)
Key Specs
• Dimensions: 51 x 20 x 28.3 in.
• Height-Adjustable: No
Not everyone has enough room in their living space for an extra-wide gaming desk. That's where the Walker Edison L-Shaped Glass Gaming Desk comes in. You can arrange this in the corner of your room without sacrificing too much floor space. The tempered glass-top black desk looks great and includes a slide-out keyboard tray. The desk also offers tons of legroom, and it can also support plenty of hardware, including multiple monitors.
Very affordable
Space-saving design
Includes keyboard tray
Glass surface is a fingerprint magnet
Best for Ultrawide Monitors
GTRacing T-Shaped Large
GTRacing
amazon.com
$129.00
Key Specs
• Dimensions: 55.1 x 23.6 x 29.5 in.
• Height-Adjustable: Yes
Made for ultrawide monitors, the GTRacing gaming desk has a separate platform for your screen that allows you to move it left and right or raise it from 6 to 8 inches for better ergonomics. Plus, the desk gives you nearly 79 inches of surface area to play on. Completing the features are two headset hooks on the side and a power strip holder below it for better cable management.
Made for ultrawide monitors
Included cable management tools
Gaming-centric design isn't versatile
Best Splurge
Thermaltake Level 20 RGB BattleStation
Thermaltake
amazon.com
$1,088.30
Key Specs
• Dimensions: 64.9 x 29.5 x 27.5 in.
• Height-Adjustable: Yes
This is the desk you purchase when you absolutely have to have the best battle station possible. The Level 20 RGB is a splurge that costs more than $1,000, but it looks fantastic, has everything you need for the ultimate gaming setup. It offers a massive amount of surface area and includes customizable RGB lighting at its edges. There's also a mouse mat that covers the entire desk's surface. With sturdy aluminum construction, four different height settings, programmable motor, and a profile that ensures this desk won't move once you place it, this desk is simple yet powerful.
Massive amount of desk area
Mouse pad covers entire top of desk
Customizable RGB lighting
This content is created and maintained by a third party, and imported onto this page to help users provide their email addresses. You may be able to find more information about this and similar content at piano.io
Advertisement – Continue Reading Below
Most Related Links :
usnewsmail Governmental News Finance News