News
The Best Backup Cameras for Your Car, Truck, or RV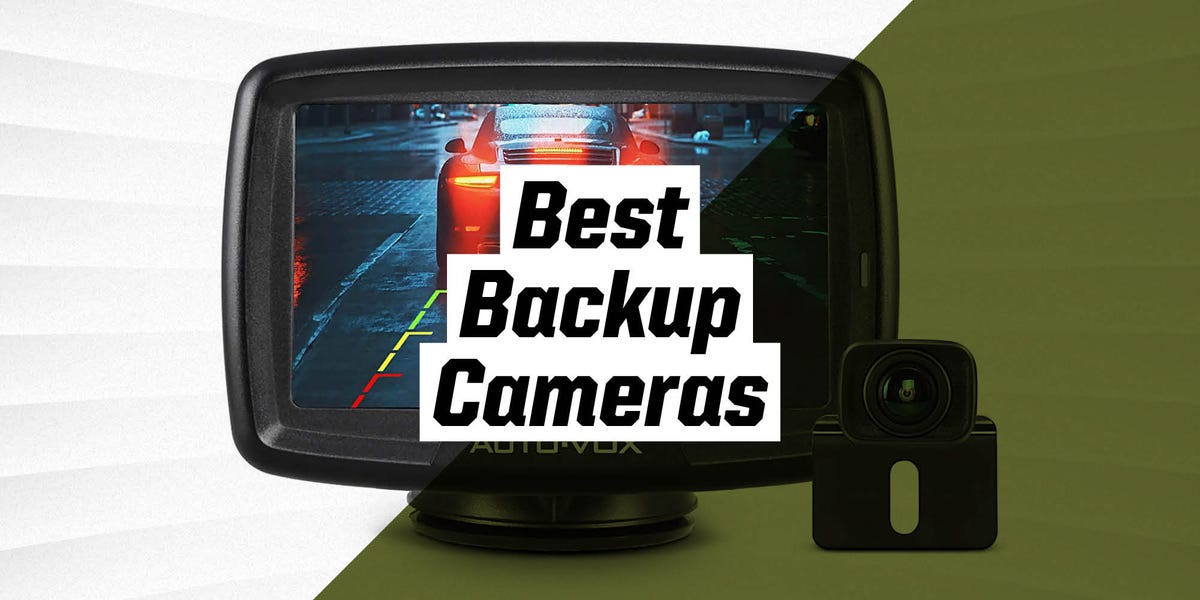 Over the past couple decades, there have been a ton of advancements in automotive safety, and one of the most important has been the rear-facing backup camera. Factory-installed backup cameras started becoming popular in the 2010s, and in 2018, the U.S. government released a mandate stating that all new vehicles sold in the country had to come with one. But what if you drive an older-model car and still want to gain that safety advantage? Luckily, there are now a bunch of aftermarket solutions with high clarity cameras and easy installation procedures.
What to Consider
At the most basic level, a backup camera is just a miniature video camera placed on the rear of the vehicle connected to a screen in the cabin. That connection is what you'll need to pay attention to. Some kits may use old-fashioned components and RCA cables, while others use wireless methods, which provide an easier installation, but adds the potential risk of a less stable connection. To power the backup cameras, batteries may be required, while other kits may need a wiring to power it.
Another thing you'll need to consider is the picture clarity and viewing angle you want, with the widest angle and highest resolution giving you most visual information. Certain models also allow additional wiring options that allow to them to automatically activate when the car is shifted into reverse.
Additionally, some kits include their own screen, but you may have to end up buying your own screen
How We Selected
Popular Mechanics picked these products based on a combination of hands-on time and research conducted through reviews from sites such as Wirecutter, CNET, and Forbes.
Advertisement – Continue Reading Below
1
Budget Option
eRapta ERT01 Car Rear View Backup Camera
Doesn't get much simpler than the ERT01 here. The tiny camera can be easily mounted on a car's license plate bracket. A single RCA cable goes up to the video screen, while the power input is intended to be hardwired to the vehicle's reverse light circuit.
The camera itself puts out a 480 pixel resolution image, and has a pretty good viewing angle at 149 degrees. The manufacturer also claims an IP69K weatherproof rating, meaning it should stand up to plenty of heat, rain, and dust while remaining functional. Eight small LED lights are also included near the lens to aid visibility at night.
The base version of this model does not include a screen, although a suction cup video unit can be had with it for about $10 more.
Bracket Installation
Night lighting
2
Swivel Feature
Accele RVCLPMBS License Plate Backup Camera
Accele Electronics
walmart.com
$109.99
This Accele camera offers a similar feature set to the ERT01 with a few distinct advantages. It has the same license plate mount with reverse light wiring, and it has an RCA video output. Additionally, it gets a mono audio output for those who want to listen for critters before backing up. Video quality is improved, with a 960 pixel image sensor and extra low-light sensitivity, although it doesn't feature any on-board lighting. It also gets a 170 degree view angle, with a swiveling camera head feature that lets you adjust the image vertically to suit your vehicle's ride height. A monitor must be purchased separately. 
960p video
Audio hookup option
Swivel adjustment
3
Low Profile
NATIKA Backup/Front View Camera
Unlike the license plate options, this one is hard-mounted to the car body, and requires some drilling. As a result, it'll give you a flush factory-style look. There are also three different mounting gaskets included to give you three possible vertical angles during installation. Connection is provided by the typical composite cable and reverse light wiring. 
Image resolution and viewing angle are on the lower side, at 576 pixels and 140 degrees. There is however a larger digital sensor and wider aperture than comparable cams, giving improved low-light performance. The device also features IP69K weatherproofing, but doesn't come with a screen in the box.
Clean Installation
Low-light image sensor
Needs drilling
Mediocre resolution
4
Brand Pedigree
PIONEER NDBC8 Surface Mount Backup Camera
PIONEER
amazon.com
$95.86
Pioneer has been in the electronics business pretty much as long as such a business even existed, so they pack in a lot of brand trust and overall quality. That's reflected in the fact that this unit is rated to operate from -22 to 158 degrees Fahrenheit. The lens features filtered glass to cut down on things like sun glare, and the camera body is very sturdy. Double stick tape and holding clamps are included to give a drill-free installation and neatly tuck away the power and video cables.
The quarter-inch image sensor is very large for a backup cam, although it only puts out 480p resolution. Viewing angle is on the narrow side at 129 degrees, but the adjustable swivel ahead alleviates that somewhat.  
Durable camera body
Glare reduction
Clean install
5
Wireless Video
AUTO-VOX CS-2 Wireless Backup Camera Kit
AUTO-VOX
amazon.com
$105.99
This Auto-Vox cam handily includes a 4.3-inch monitor right in the box, and the device even connects to it wirelessly, eliminating the hassle of dealing with a long component cable. Reviews mention that the wireless connection is solid and stable, although there is a noticeable video delay compared to wired screens. Power is still supplied by the usual reverse light wired method, and double stick tape is provided for installation. The screen is affixed by a suction cup mount and plugs into the 12V outlet.
One neat feature of this combo is the customizable guideline overlay on-screen that drivers can use to gauge distance for things like parallel parking. Resolution is a decent 592 pixels, while the 110 degree viewing angle is perhaps too narrow for large vehicles. The vertical angle placement can also be adjusted via a screw on the camera base.
Included Wireless Screen
Guideline UI
Screen latency
Narrow viewing angle
6
Best Overall Value
VanTop H610 Mirror Dash Cam
VanTop
amazon.com
$129.99
This one really packs in a huge number of features for a very fair price. You actually get two cameras and a screen in the box, with one camera facing backward and the other acting as a front-facing dash cam. The screen replaces your vehicle's rear view mirror, and can be used both as a monitor and traditional mirror. It's also the housing for the front camera, and setting adjustments are made via touch control.
The rear camera attaches to the license plate bracket with one cable supplying power and feeding video to the screen unit. No need to tap into the reverse light circuit, but that also means the user has to activate the rear camera manually.
The backup cam boasts an impressive 1080p HD resolution and 160 degree field of view, while the dash cam gets and even higher 1944p and 170 degrees. Both have night vision capability, and the backup gets a guideline overlay. They also have the option of recording footage for archival onto a micro SD card. The central unit uses a built-in battery which can easily be recharged by a 12V jack.
Dual camera setup
HD video
Recording capability
No reverse gear detection.
7
Wide Angle
Kenwood CMOS-320 Multi-Angle Backup Camera
Kenwood
amazon.com
$188.00
This Kenwood cam features the widest viewing angle we could find at a massive 190 degree field. Another unique feature here is the wired remote that allows the user to peek around objects like trailers.
Other than that, it's a pretty typical camera, installed by the usual wired method and put in place by adhesive. Resolution is only 480p, and a screen is not included. Those are pretty disappointing facts considering the camera alone is nearly $200. This device is really reserved for drivers that absolutely need the widest possible view.
Widest angle
Remote adjustment
Expensive
Low resolution for price
8
For Trucks & RVs
Rear View Safety Backup Camera System
Rear View Safety
amazon.com
$599.80
This multi-camera system is just the thing for big trucks, RVs, and trailer rigs. Three rear cams hook up to an included seven-inch screen to provide the best possible blind spot coverage. All connections are wired, with an included cable allowing an easy hookup to a trailer's power outlet. The system also has the option to broadcast full-time instead of just in reverse.
The center camera provides a 130 degree viewing angle, while the side cams both do 120, giving a panoramic view of the truck's rear side with correct placement. All three of them also feature infrared night vision, and IP69K weather resistance. In addition, the center provides audio input and has glare-reducing sun shade. The combined resolution of the trio comes out to about the equivalent of 720p.
Unbeatable coverage
Complete system in the box
Expensive
Only for large vehicles
This content is created and maintained by a third party, and imported onto this page to help users provide their email addresses. You may be able to find more information about this and similar content at piano.io
Advertisement – Continue Reading Below
Most Related Links :
usnewsmail Governmental News Finance News