News
The Best Bookshelf Speakers For Next-Level Sound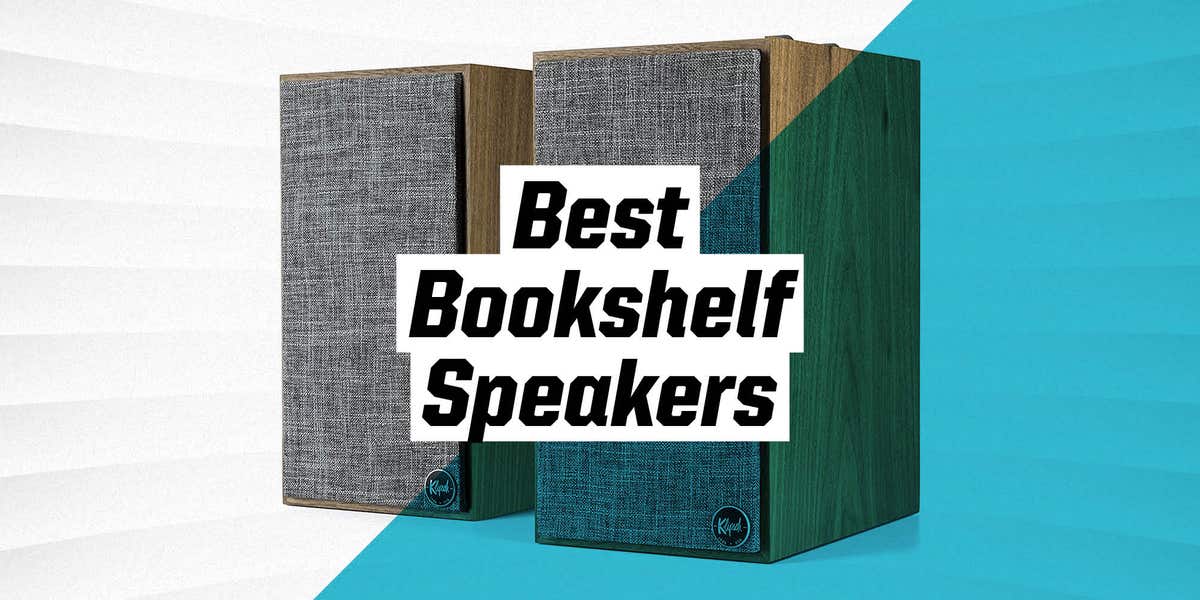 If you want the high-quality sound of floor-standing speakers, but you don't have the space to spare, consider a set of bookshelf speakers, which are sized to—you guessed it—fit on a shelf. These mid-sized models are generally more affordable than larger ones and usually don't require any in-depth installation. Because of their compact size, they're versatile, too—most are compatible with your turntable, TV, and computer, and many are now wireless and Bluetooth-capable. Here are some of our favorites along with advice on what to consider when shopping for bookshelf speakers.
How to Choose a Bookshelf Speaker
Because your bookshelf speakers will be on display with the rest of the things on your shelf, one of the first things you'll likely consider when shopping for them is how they look. Beyond aesthetics, however, there are other, more important features to look for, such as:
Size
There's the obvious, of course: You don't want to purchase a speaker only to find out it's too big for your space, so be sure to check all measurements—height, width, and depth. Now that you have that out of the way and have narrowed down your options, consider the speaker's size in relation to its quality. Generally, the bigger a speaker, the larger the woofer and tweeter will be—which helps give the sound body and clarity.
Price
It's true that bookshelf speakers are the budget option when it comes to home speaker systems, but like anything, they span a wide price range—in this list alone, there are speakers that cost as low as $45 and as high as $700. While they will all produce a quality sound—or at least one that's superior to your phone, TV, or computer—the real price difference is shown in design (like wood paneling), sound clarity (particularly in layered, complicated music), and additional features (like voice control).
Compatibility
Depending on how you want to use your speakers, you will want to make sure they are able to connect to your devices. Most speakers—particularly older models—are designed to work with a central control unit. These speakers have only the cord attachments. While central control units have the ability to connect to various devices depending on the model you have, the speakers alone cannot connect to anything else. Some models are more versatile, and essentially allow you to use your phone, TV, or computer as the central control unit, and connect using USB, Bluetooth, HDMI, and more, which is great if you are looking for a space-saving option but want the benefit of quality speaker sound.
How We Selected These Bookshelf Speakers
To find the best options among the many bookshelf speakers out there, we used our decades of experience testing and evaluating the latest tech, our deep familiarity with trusted brands, and our understanding of what you should look for—and avoid—when making a purchase. We took into account these speakers' design, sound quality and clarity, footprint, and cost. Then we researched more than 14,000 customer reviews on Amazon.
---
Great Build Quality
Elac B6.2 Debut 2.0
Elac
$349.98
$279.98 (20% off)
Elac's Debut B6 bookshelf speakers have been a favorite in recent years for their great bang-for-the-buck performance, and the company's newer Debut 2.0 series speakers look to only improve on that status. CNET gives the speakers high marks for their improved build quality and clearer sound quality, as well as their redesigned cabinets that allow them to be placed closer to a wall than the previous speakers. Those improvements do come with a slight increase to the speakers' price tag, but they remain one of the best values around.
Small Footprint
Q Acoustics 3020
Q Acoustics
If you're looking for something small and sleek that still pumps out great sound, Q Acoustics's 3020 speakers may be just what you're after. They are more likely to fit into any room than many bookshelf speakers—not just for their small size, but because you can get them in your choice of four different finishes, including gloss white, black, graphite, or classic American Walnut (which can also be paired with other matching speakers in a home theater setup).
Best Mid-Range
Edifier R1280T
Whether as a secondary set of speakers for an office or bedroom, or as part of a budget-minded main system, there aren't many more well-reviewed $100 speakers than Edifier's R1280Ts. Adding to their budget appeal: They are powerful speakers with a pair of AUX inputs (not to mention a remote control), which means you won't need a separate amplifier. 
If you're willing to spend a little bit more, Edifier's R1700BT ($149) will give you similar performance and also add some Bluetooth connectivity to the mix.
Smartest Speaker
Sonos One (2-Pack)
Shopping for bookshelf speakers these days likely also means giving at least some consideration to wireless or smart speakers. While a single Bluetooth speaker may not be a viable substitute, a pair of Sonos One speakers can offer significant upgrade to the already-great sound you can get from a single speaker—and, at $400, is not too far out of line considering all of the added wireless features (including Amazon's Alexa smart assistant) you get from them.
Most Versatile
Klipsch The Fives Powered Speaker System
Klipsch
amazon.com
$799.00
$699.00 (13% off)
At 18.5 inches tall, these speakers take up more vertical space than most bookshelf speakers, but they're a great option for living room entertainment. In testing conducted by Rolling Stone, they were found to have full base balanced with midrange and treble. They performed well playing any music, but were particularly impressive when handling complicated tracks. They're incredibly versatile, too, allowing you to connect via RCA inputs, HDMI or optical inputs, USB input, or wirelessly via Bluetooth.
Budget Option
Dayton Audio B652 6-1/2″ 2-Way
Dayton Audio
amazon.com
$47.98
You will be hard-pressed to find a set of bookshelf speakers of this quality for a better price. It may not be the snazziest design you've ever seen, but in valuing performance over design and fancy features, they were able to produce a high-quality sound at a super affordable price. Overall, music is balanced and clean, but since the woofers are on the smaller side, they can't produce a super loud, deep bass. That being said, the sound quality significantly exceeds that of other speakers in this price range. 
This content is created and maintained by a third party, and imported onto this page to help users provide their email addresses. You may be able to find more information about this and similar content at piano.io
Most Related Links :
usnewsmail Governmental News Finance News