News
The Best Budget-Friendly Miter Saws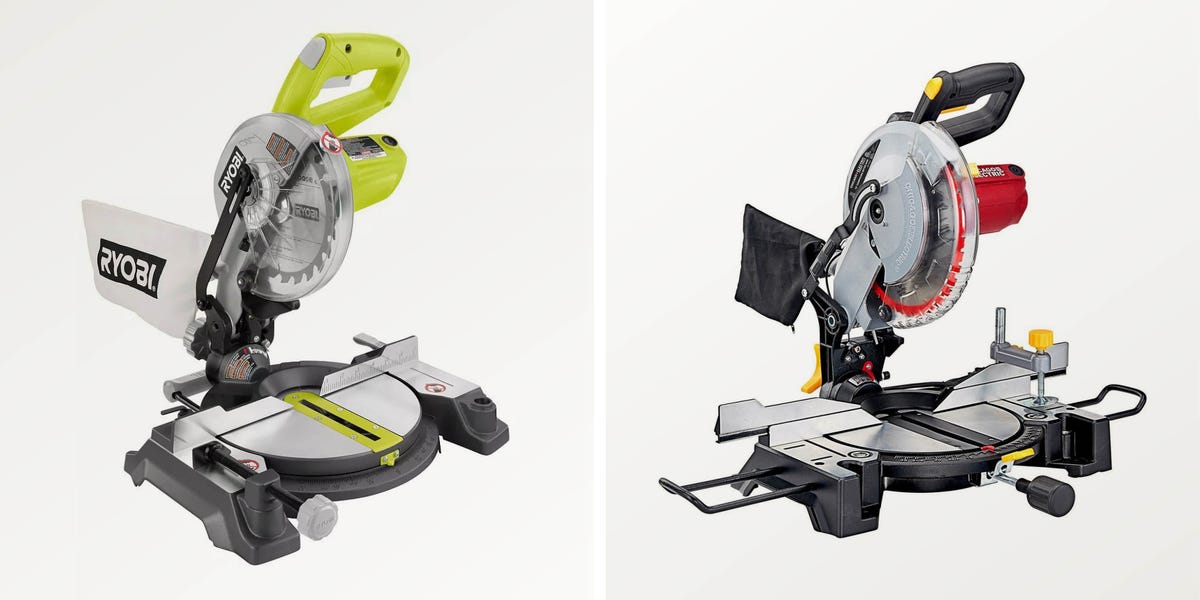 One of the most powerful tools out there is the 10-inch miter saw, a small machine that quickly and accurately cuts parts to length. Take one of these and a cordless drill, and you can build a piece of furniture. The saw by itself can shear construction lumber, furniture and cabinet parts, baseboard molding, door trim, window trim, and wood flooring. Pop in a specialized non-ferrous blade, and it will do everything from cut aluminum trim and copper tubing to crosscut laminate-covered flooring.
So we've established that these compact saws are powerful and versatile. But here's the best news yet: You don't need to pay a fortune for one. Generally, entry-level saws vary in price from $100 to the high $200, with the sweet spot falling somewhere in the range of $140 to $150. Given everything that one of these saws will do, that's not a lot of money, especially when you factor in the ease it will lend a DIY project or the satisfaction you gain in acquiring new skills.
How We Selected
Below you'll find the four best miter saws from our testing, in which we cut hardwood, softwood, construction lumber, and wood trim. All the saws did pretty well, with some quirks that emerged in the course of our use. Still, we were pleasantly surprised, and each has some capability to offer you in terms of your next home-improvement project or if you want to get started in woodworking.
Advertisement – Continue Reading Below
Compact
Craftsman CMXEMAR120
Weight: 24 lb.
Amps: 15
This Craftsman's fold-flat design is attractive both for storage and transport. You can carry it with one hand as you move up stairs or through a doorway. You don't even need tools to fold it up. Also, a separate plastic storage base keeps the CMXEMAR120 standing up in its packed-down state, taking up far less space on a shelf than other saws. As for cutting, its motor shape and location provide enough clearance that you can buzz through three sizes of crown molding standing against its fence.
If we have one small complaint with the saw, it's that its handle geometry isn't particularly comfortable. Our hands were fatigued after repeat cuts.
Easiest to Use
Delta S26-262L
Weight: 22 lb.
Amps: 15
The S26-262L is dead-on accurate right out of the box, no fussing or adjustment required. It also has the largest base (15 inches deep), the smoothest and biggest turntable, and the tallest and best fence of the saws here. What's more, there's a distinct—and appreciated—lack of vibration during cutting.
This isn't to say that this is the perfect saw (there's no such thing). The bag missed a lot of dust and shavings, and the two die-cast supporting ribs in the center of the dust chute contribute to clogging.
Fast Cutter
Ryobi TS1346L
Weight: 21 lb.
Amps: 14 
With a 5,500-rpm motor and a coarse 24-tooth blade, the TS1346L flies through lumber. If you're buying a saw because you want to cut 2 x 4 material, where you need reasonable accuracy but what you really need is speed, then this saw is a good choice. We also liked the fact that its blade guard provided the most coverage of the saws we tested.
Every saw in this test had screws that were overtightened at the factory. On this saw, though, two screws were so tight they stripped when we tried to loosen them. Will you experience this on your saw? We can't say. But it's wise to carefully examine any saw and its adjustments first thing, before cutting a stick of lumber and while it's still under warranty.
Most Affordable
Chicago Electric 61973
harborfreight.com
$104.99
Weight: 22 lb.
Amps: 15
This is a basic miter saw that cuts with power and has only a little more vibration than the Delta. Although it doesn't come with a blade, it does have two spare carbon motor brushes. So plan on putting a decent blade on it; that will add anywhere from $30 to $50 to its price.
Also, to be candid about this saw, there's no free lunch. Yes, it's inexpensive, but adjusting its accuracy took more work than the other machines. Fortunately, once we finished the fine-tuning, it was locked in and cut accurately.
This content is created and maintained by a third party, and imported onto this page to help users provide their email addresses. You may be able to find more information about this and similar content at piano.io
Advertisement – Continue Reading Below
Most Related Links :
usnewsmail Governmental News Finance News