News
The Best Workbenches for DIY Projects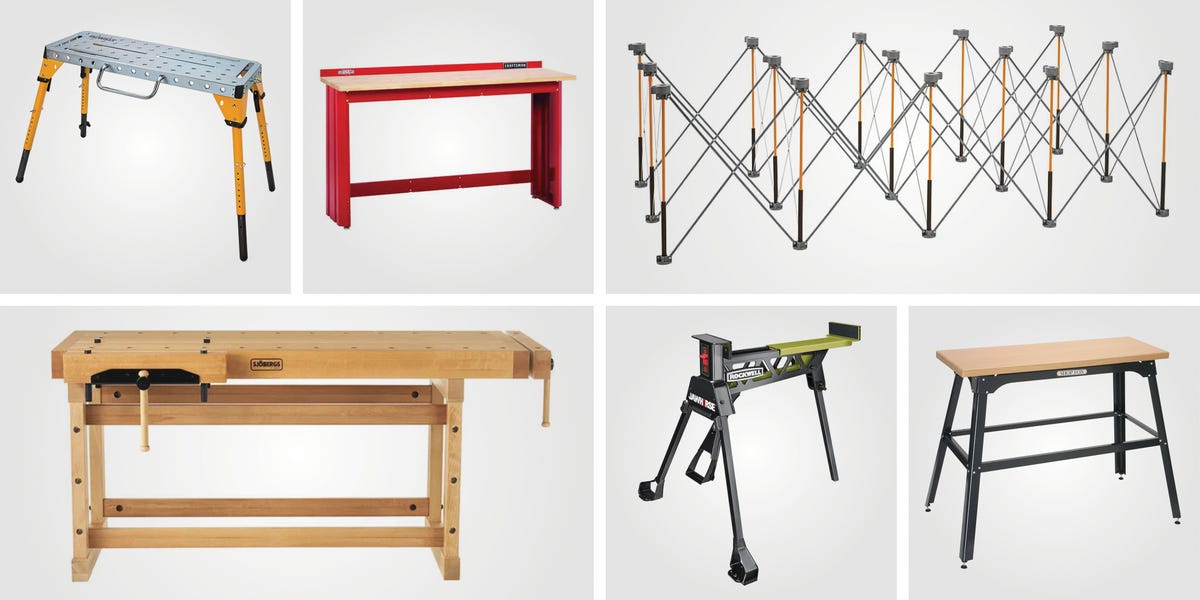 It's pretty easy for someone to build their own workbench, and we're advocates for people to do so. At the same time, we know it's not for everybody. And the reason for that is that not everyone can or even wants to build a bench. Also, a home-built bench isn't suitable for all purposes and specific projects. Portability, lightweight materials such as plastics, the careful application of industrial design, and factors as simple as space restraints in your home may tip the scale in the direction of purchasing a bench or some form of work aid, rather than building one.
And, let's be frank here, there's the matter of time. They say time is money, but it's more than that. It's a precious commodity. If you need to quickly repair your motorcycle, and you've got a Saturday morning to do it, your time is better spent on the repair than on building the bench to support that repair.
So there you have it. Here are some of our favorite workbenches and supports, from adaptable steel sawhorses and a European-style bench to hybrid devices that you adapt to suit how you like to work.
How We Selected
When it comes to workbenches and work supports, less is more. We've seen countless variations of work benches and supports in our time, and the vast majority have fallen by the wayside because they failed to acknowledge the axiom that the more gizmos you add, the more stuff there is to break. And we've built various kinds of benches and work supports. Our experience bears out that simplicity and robustness take you further than some slick piece of hardware. So we selected the models here based on simplicity, durability, and repairability. The cost of these benches and work aides varies widely from under $20 for sawhorse brackets to thousands of dollars for a truly beautiful European workbench built out of beech. There's a lot to choose from along that price spectrum; we're reasonably sure one of these should suit your needs.
Advertisement – Continue Reading Below
Simplest Bench
Woodstock Shop Fox D3640
Maybe all you want is a straightforward little table to build that bird house, paint a shutter, or pot a plant. The Shop Fox is a good choice. Its laminated softwood top measures 1.25-inches thick by 14-inches wide by 40-inches long. The top's gently curved edge on its front and back make it more resistant to splintering compared to a top with a sharp edge. While the base is light-gauge steel channel, the connections at the legs and crossrails are double bolted. The result is that the bench is rated to support 700 pounds—likely far more than you'll need.
Traditionalist's Choice
Sjöbergs SJO-33279
This expensive and stout workbench is built in Sweden by Sjöberg, a company with 90 years of experience making benches and tool cabinets. The SJO-33279 is a centuries-old design favored by European woodworkers. It has two vises—one oriented along the bench's long axis and the other across it. These can be used as they are to clamp a workpiece, and they work with bench dogs, the four steel pins provided with the bench. Holes for the dogs are located symmetrically across the bench, down its length, and in the body of the vise jaw. Placing bench dogs in the vise jaw and the bench gives you the freedom to clamp down what you're working on anywhere on the bench's large platform. This allows you to hold a wide variety of pieces, regardless of their thickness or shape.
Starter Bench
Craftsman CMST27200R
The Craftsman CMST27200R is a great first bench. It consists of a 1-inch-thick hardwood top measuring 41.25-inches wide by 6-feet long supported on a steel substructure. This structure has crossrails bolted to two vertical sheet steel panels, with strength-inducing channels formed into their length. Four leveling feet help the bench stand without rocking on uneven floors. It's rated to support 1,450 pounds, so don't be shy about bolting a hearty machinist vise or even a drill press to the top. The bench's proportions are such that a Craftsman rolling or stationary tool box will fit neatly below. A last detail worth calling out is the 2-inch-tall backsplash that helps keep tools from rolling off. Bonus: It also prevents the edge of the bench from forming a channel that can trap dust and debris when the bench is bolted to a wall.
Industrial Duty
Knaack 44 Jobmaster
Okay, we admit that we might be getting carried away here, but we couldn't resist including this massive Knaack workbench; the 44 Jobmaster is the real industrial deal. What do you get for this money? Sixteen-gauge, powder-coated steel construction, including the top—that's about the same metal thickness in the tray of a heavy-duty wheelbarrow. You also get ball-bearing drawer slides that allow each drawer to support 80 pounds worth of tools or hardware, industrial-duty caster wheels, and an 800-pound rating. The box measures 25-inches wide by 40.5-inches long, with the top about 37.5 inches off the floor. If all that won't handle your tool needs, we'd have to ask, what will?
Welding Sawhorse
DeWalt DXMF4618WT
DeWalt has quietly entered the welding tool business, and among its handful of offerings is this cool bench, with legs that fold out and lock. Note that the top is perforated with ¾-inch holes and slots­ to permit you to clamp just about any oddball shape that you happen to be fabricating. The top is 18-inches wide and 45-inches long, and the four adjustable legs can place it anywhere from a few inches off the floor to about three feet up. The entire thing folds into a tight 40-pound bundle consisting of the top and four legs folded into it. Carry it like a suitcase thanks to that whopper of a handle on its side.
Clamping Sawhorse
Rockwell JawHorse RK9003
amazon.com
$199.99
$179.99 (10% off)
Rockwell's JawHorse is popular with contractors and homeowners alike—a rare thing. It works on its own as a three-legged workbench or stand, but can also be paired with another JawHorse spanned by lumber and plywood to form a work surface. To use its clamp, press down on the foot pedal to produce up to a ton of stay-put force—plenty to hold a piece of lumber or a large object like a kitchen cabinet. Or the clamp can exert pressure to bring two pieces together, enabling you to glue them or drill a hole through both.
Folding Sawhorse
Bora Portamate Speedhorse PM-4500
Bora Speedhorses are sold in pairs; they're designed to secure 2 x 4 lumber to form a two-horse sawing support 33 inches off the ground, or the 2 x 4s that it secures can be bridged by plywood forming a large work surface. Bora claims a Speedhorse will support up to 1,500 pounds. When it's done with a day's work, fold the legs into the 36-inch-long body, and call it a day.
Just Add Plywood
Bora Centipede CK15S
amazon.com
$199.00
$178.28 (10% off)
The Centipede workstand is one of the more unusual we've seen. All you do is take it out of its pouch and expand the 15 steel tube struts as shown. Flop a sheet of plywood down on top of it (4 feet by 8 feet), and you've got yourself a surprisingly large and simple work surface 30 inches off the ground.
DIY Sawhorse
Lee Valley Sawhorse Brackets
If you've given up on sawhorse brackets, it's time to reconsider. We'll give you this: Most are chintzy beyond belief­. But these brackets from Lee Valley are molded out of high-impact polystyrene, and the bracket that supports the top will accommodate anything from a 2 x 4 all the way up to a 2 x 12. Each set makes one sawhorse; when finished, the horse has a 300-pound load rating.
This content is created and maintained by a third party, and imported onto this page to help users provide their email addresses. You may be able to find more information about this and similar content at piano.io
Advertisement – Continue Reading Below
Most Related Links :
usnewsmail Governmental News Finance News