News
These Photos of Early 2000s Technology Will Give You Serious Nostalgia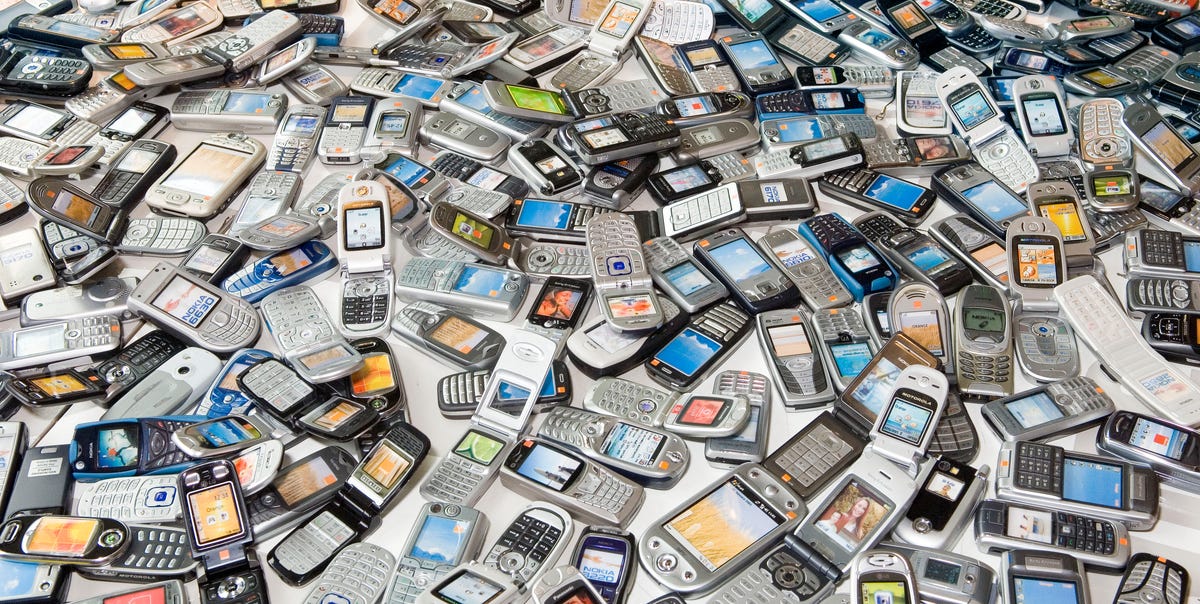 Science & Society Picture LibraryGetty Images
Ah, the aughts. They were simpler times, when Paris Hilton and Lindsay Lohan owned the covers of tabloid magazines, social media consisted of picking your top friends list on Myspace, and watching a movie meant grabbing a DVD at your nearest Blockbuster. But nothing has changed more than technology. Let's take a look back at some of the equipment we rocked in the good ol' 2000s.
1 of 25
Blackberry Phones
Before answering emails on your iPhone or Android, the Blackberry was the original go-to smartphone device for all of your internet addictions.
2 of 25
iPod
In July of 2002, Apple unleashed the very first iPod–enabling users to carry thousands of songs in the palm of their hand.
3 of 25
GPS
Before Google Maps went mobile, everyone had one of these big guys suctioned to their front windshield.
4 of 25
Desktop Computers
The Mac desktop featured a large round shell and came in a variety of bright colors when it was released in 2001.
5 of 25
Sidekick Phone
The T-Mobile Sidekick was *the* phone to have in 2006. The screen flipped open to reveal a full keyboard. Bonus points if you had your phone bedazzled.
6 of 25
iPod Nano
Apple released a slimmer and sleeker version of the iPod in 2009–available in a slew of vibrant colors. They also included built-in cameras.
7 of 25
Nintendo Wii Remote
The first *dip* into virtual reality came in the form of 2006's Wii Remote–which allowed users to actively play everything from tennis to golf.
8 of 25
Laptop Computer
Everyone wanted to get their hands on Apple's cutting-edge clamshell iBook laptops back in 2000.
9 of 25
RAZR Phone
Paris Hilton showcases her hot pink Motorola MotoRAZR phone. That's hot.
10 of 25
DVDs
Back when the word "streaming" simply defined what water does down a river, Netflix used to mail your selected DVDs directly to your doorstep.
11 of 25
Xbox 360
In the early 2000s, every teen was playing The Sims on their Xbox 360.
12 of 25
Game Boy Advance
The fold-down screen on Game Boy Advance made it possible to play Pokémon anywhere at anytime.
13 of 25
3D TV
Towards the end of the aughts, 3D movies and 3D television shows became all the rage. However, it was a trend that disappeared as quickly as it came.
14 of 25
Hit Clips
These miniature music players carried snippets of your favorite tunes on tiny floppy disks. Who needs to hear the whole song, anyway?
15 of 25
Portable DVD Player
If you wanted to watch a movie on the road, you'd pop the disk in one of these bad boys.
16 of 25
Digital Camera
You probably used something a clunky, handheld camera that looked like this to take pictures for your Myspace page.
17 of 25
iPod Shuffle
Before the days of rocking out to your Spotify playlist, the iPod shuffle provided your randomized curation of tracks, totally ad-free!
18 of 25
TiVo
The TiVo recording system was a saving grace if you weren't able to catch your favorite show live.
19 of 25
HDTV
While HDTV technology was developed in the 90s, it didn't become readily available to the average consumer until the early 2000s. Nowadays, people are upgrading from HDTV to 4K.
20 of 25
Playstation Portable
A user tests out the PSP gaming system, which brought life-like graphics to the palm of your hand in 2004.
21 of 25
Amazon Kindle
In the mid-to-late 2000s, Amazon made it possible to access your library with the push of a button. Thus, the reading tablet was born.
22 of 25
Flatscreen Computers
When the iMac went flat in 2002, it kicked off a new design model for computer companies to emulate.
23 of 25
T9 Cell Phones
Who remembers the T9 keyboards on cell phones? You could only text using 9 keys, and you'd sometimes have to hit a number multiple times in order to get the correct letter. Texting on these took forever!
24 of 25
Desktop Towers
If you had a desktop computer at your workspace, chances are you were likely banging your knee against the computer tower underneath your desk.
25 of 25
iPod Dock
Of course, you had to charge your iPod somewhere. So why not on top of Apple's loud, but less-than-subtle speaker system?
Advertisement – Continue Reading Below
This content is created and maintained by a third party, and imported onto this page to help users provide their email addresses. You may be able to find more information about this and similar content at piano.io
Most Related Links :
usnewsmail Governmental News Finance News